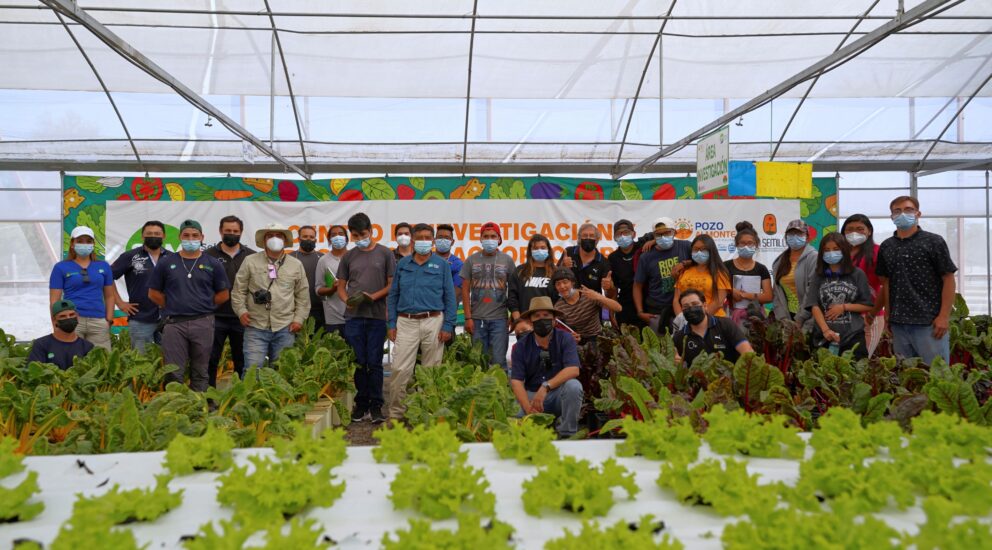 Agriculture students from San Pedro de Atacama enrich their studies with a technology tour
08/Nov/2021
Students at Lickan Antai Bicentennial Technical High School in San Pedro de Atacama enrich their learning with visits to several agricultural centers, training and specialized workshops.
Sixteen 11th and 12th graders from the agriculture program at the Lickan Antai Technical High School went on an agricultural tour through different areas of the Tarapacá Region to further their knowledge and learn about different facilities.
The first visit was to the Pozo Almonte Agricultural Research Center, a project built to international standards through SQM's Atacama Tierra Fértil Program with support from the local municipality. The young people toured a 1,000 m2 greenhouse that grows hydroponic vegetables and is licensed to produce gourmet goat cheese in a complementary unit. The students also learned about the different desert agriculture research processes conducted at the facilities, which are open to the community and receive hundreds of visitors each year.
"I think it is incredible. It was a great opportunity to see other places, agricultural centers and different crops. We learned about other harvesting processes that take place in the middle of the desert. Seeing how different gardens work was very useful for being able to apply those tools in the future," noted Tanya Oyarzo, an 11th grader in the agriculture program.
Another agriculture student, Matías Plaza, commented on what he learned. "The tour was very interesting. We saw many places and learned about different agricultural processes that reinforced what we already knew. It was a really great experience, and we were able to ask all our questions so we could keep making progress."
The tour also included facilities like Universidad Arturo Prat's Agricultural Experimentation Center and the alfalfa project, a three-party initiative by CONAF, SQM and the Ranchers Association in Pampa de Tamarugal National Reserve. Students also toured traditional gardens where local formers shared their knowledge.
"This is another collaborative effort with SQM to improve the agriculture program. These efforts have been taking place for several years. The field trips help students learn about realities, scales and products beyond San Pedro de Atacama. They motivate the young people to learn even more about agriculture and provide new knowledge thanks to professionals and entrepreneurs who work in extreme conditions like those in our district," said Guillermo Gallardo, the teacher responsible for the agriculture program.
Agriculture Program
 The agriculture program at Lickan Antai Professional Technical School aims to maximize 11th and 12th-grade students' agricultural knowledge and skills. To that end, the program has been collaborating with SQM's Atacama Tierra Fértil Program and the La Semilla Foundation in San Pedro de Atacama for 13 years.
This year, the 16 students who chose the program have learned different techniques they will need in their working lives. "The work has been really beneficial for improving the agriculture technician program. SQM has helped us with facilities, agriculture and livestock production workshops, teaching about new sustainable systems, etc. It is all done with the students in mind and thinking about how to enrich their knowledge," said Mr. Gallardo.
Senior Vice President of Environment and Community at SQM Salar, Alejandro Bucher, underscored the importance of this joint effort for the students' future. "We are delighted to build these collaborative partnerships to benefit the education of young people in the community. We offer enrichment opportunities that enable an exchange of knowledge and experiences with farmers from different areas. We aim to improve student learning and provide the tools they will need for their working lives.