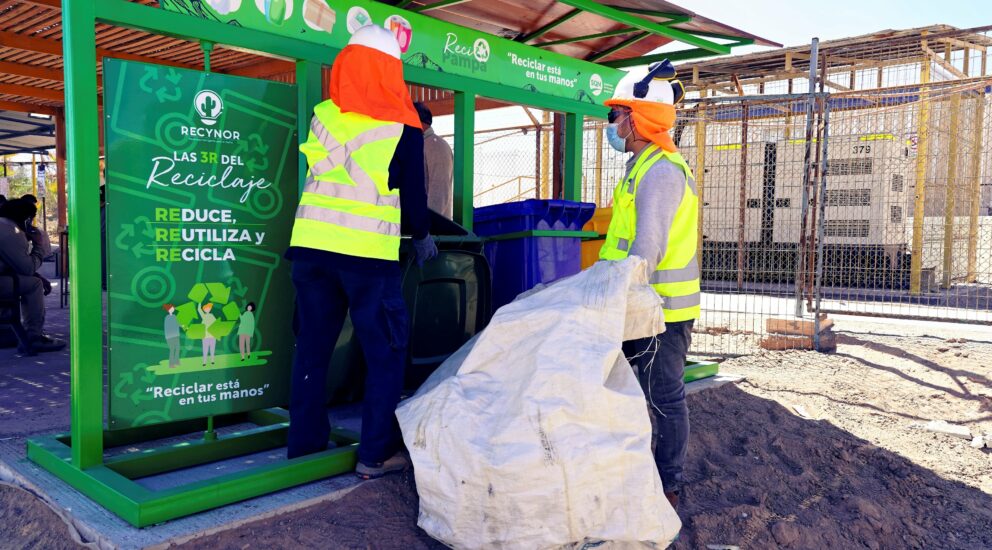 SQM's Nueva Victoria site partners with local Tarapacá company to implement robust recycling plan
08/Nov/2021
The initiative, called Recypampa, is already operating six recycling points distributed throughout the world's largest iodine plant, located in the Tamarugal Province.
Based on the SQM Sustainability Plan's principle committing to reducing the carbon footprint and sustainably managing waste, employees at the Nueva Victoria site are breathing life into the Recypampa project, which aims to make recycling more accessible at the company's various levels.
Undertaken in conjunction with Recynor, the initiative involves six recycling points in key locations around the site. Recypampa also aims to favor local companies and support business development in Tarapacá. It also directly contributes to the UN Global Compact Sustainable Development Goals, which the company has signed. The SDGs promote sustainable cities and communities, responsible production and consumption, and climate action.
As Pablo Pisani, Director of Communications, Sustainability and Public Affairs at SQM, explained: "Through this initiative, we have created a very fruitful partnership with a palpable commitment to employees. In a very short time, we have gone from the pilot stage to being operational, enabling us to make a real commitment to recycling at the site."
The executive also emphasized the importance of working on the project with a local company. "Recynor's vision converses very well with SQM's principles on innovation, sustainability and supporting local suppliers, in alignment with the corporate Sustainability Plan, which contains several environmental goals like becoming a carbon neutral company by 2040," added Pisani.
Juan Pablo Lara, an Environmental Engineer at SQM Nueva Victoria, observed, "We currently take waste to an on-site landfill, but we know much of the waste could have a second useful life. That is why this project is important. We are reducing industrial and domestic waste."
In that context, Operations Manager at Recynor, Raúl Valenzuela, expressed his satisfaction with the first-stage results, "SQM been very committed. We have reduced waste like cardboard, plastic, glass, aluminum and household items. We are very excited to continue down this critical path of reducing our carbon footprint.
Notably, this initiative takes place at the world's largest iodine plant, located in the Tamarugal Province, where SQM, the world's leading iodine mining company, coexists with several neighboring communities.