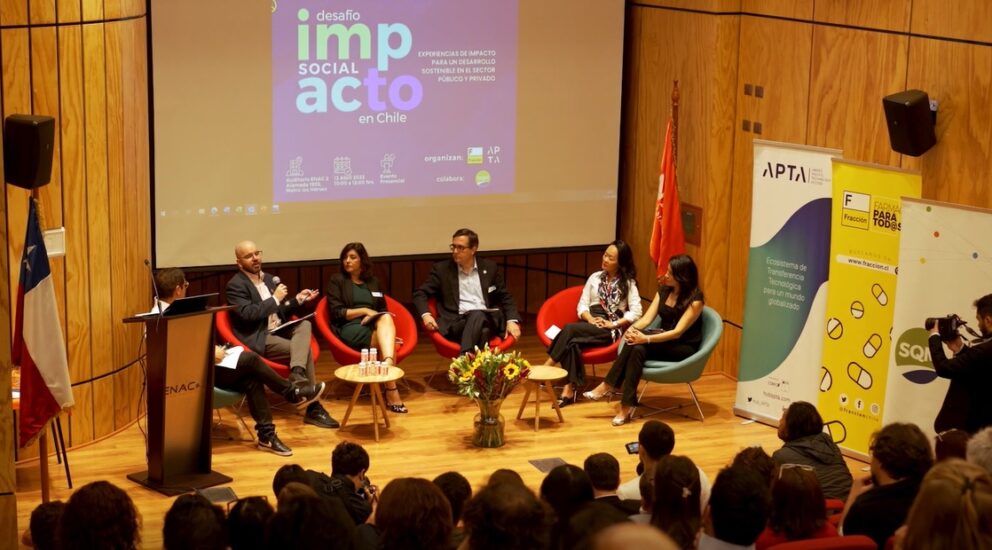 Farmacias Fracción and Hub APTA launch an unprecedented call aimed at measuring their pharmacies' impact in 3 of the country's remote communities.
15/May/2023
The Social Impact Measurement Challenge in Chile, supported by SQM, seeks to evaluate the social impact of the revolutionary chain of digital pharmacies with a triple-faceted impact. The call is directed at universities, training centers, research institutions, and others capable of developing a methodology or tool that provides these social indicators in the pharmacies in San Pedro de Atacama, Vichuquén, and Cochamó.
Hub Apta and Farmacias Fracción will launch the unprecedented Social Impact Measurement Challenge in Chile, an initiative that aims to quantify, through knowledge and academic research, the social impact that Fracción is generating through the implementation of pharmacies in remote and/or economically vulnerable communities.
The call seeks representatives from academia and innovation from all over Chile for the development of tools, methodologies, or platforms to measure the benefits of these pharmacies in the communities of San Pedro de Atacama (Antofagasta Region), Vichuquén (Maule Region), and Cochamó (Los Lagos Region).
The challenge is supported by SQM, a company that, in collaboration with Farmacias Fracción, partnered with the local government to implement the first community pharmacy in San Pedro de Atacama, aiming to improve the quality of life for families living in areas far from the city, such as Santiago de Río Grande, Toconao, Talabre, Camar, Socaire, and Peine, by providing access to lower-priced medications regulated by the Cenabast Law, as well as to bioequivalent or generic medications previously unavailable in the community.
Currently, Fracción also operates in other communities in Chile, including Vichuquén, Sierra Gorda, Empedrado, María Elena, and others, serving them through online platforms and remote delivery. Added to those locations are six new pharmacies set to open in areas such as San Juan de la Costa (Los Lagos), Cochamó (Llanquihue), and Ollague (Antofagasta), among others. As they continue to grow, Fracción recognizes the need for a methodology to measure its real social impact and to be able to make strategic decisions for the benefit of the community.
"Having this type of measurement is essential to allow more companies to create large-scale changes. It's not just about producing more; it's about revolutionizing the way we produce in order to improve quality of life and social well-being. This kind of action is not only the responsibility of companies but of all industries," says Javier Vega, founder and executive director of Fracción.
Similarly, José Miguel Berguño, Senior Vice President of Corporate Services at SQM, highlighted the relevance of contributing to the challenge of measuring social impact: "At SQM, we actively support projects that seek to generate shared social value. We have extensive experience working with the territories where we operate, and we believe that initiatives like this contribute to bringing together different actors and creating alliances that promote people's well-being and quality of life, in line with the sustainable development of our products."
Varinka Farren, Executive Director of Hub APTA, added: "At Hub Apta, we have the challenge of encouraging and promoting the research and knowledge capacities that exist in Chilean universities and technological centers, connecting academia with production sectors. For the first time, we will develop a methodology to truly understand the social impact generated by a specific industry, such as the pharmaceutical sector."
The organization or consultant selected as the winner of the challenge will receive $21 million Chilean pesos. The call will be open until May 15, 2023.
Launching the Challenge
The launch took place on Wednesday, April 12, at the ENAC auditorium. Following the launch, a series of informative workshops will be available for those interested in more details.
The launch ceremony featured a panel of experts from the government, academia, and the private sector who analyzed the importance of measuring social impact in these kinds of innovative initiatives. The participants in the panel included: Giorgio Jackson, Minister of Social Development and Family in Chile; Julie Kim Lee, Director of Engagement and Internationalization at the UDP School of Administration and Economics; Eduardo Bitrán, President of Hub APTA, Director of Codelco, and Director of Innovation at the UAI School of Engineering and Sciences; Veronica Pinilla, Manager of Public Affairs and Sustainability at Banco Estado; José Miguel Berguño, Senior Vice President of Corporate Services at SQM; Varinka Farren, Executive Director of Hub APTA, and Javier Vega, Executive Director of Fracción.
One of the general public's main concerns is to have timely access to healthcare and quick and safe access to medication, as this directly impacts their quality of life. However, this is often hindered by geographic distribution, leaving certain areas without services such as pharmacies. These areas are generally rural, isolated, and lacking economic resources.
With this issue in mind, Farmacias Fracción was created to serve as a socially-oriented pharmacy whose objective is to improve access to medication through fair prices, presence in remote areas, medication fractioning, and availability of low-cost medications that abide by the Cenabast law. Ultimately, this approach generates a triple impact: social, economic, and environmental.