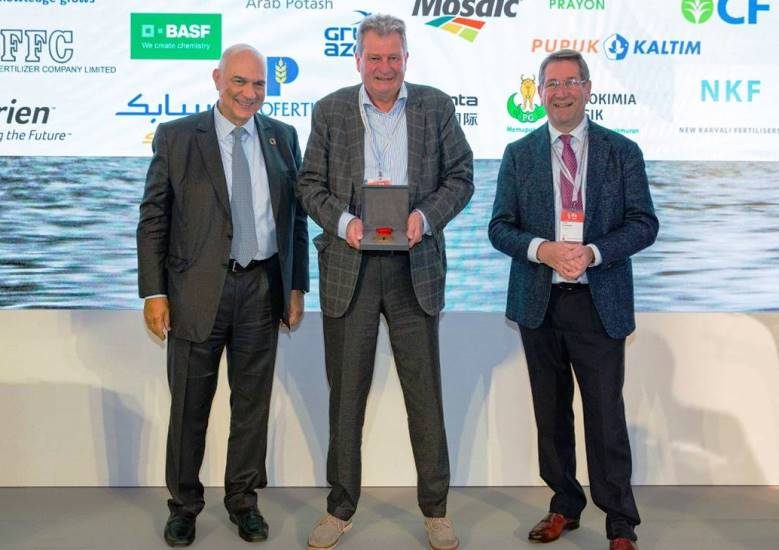 IFA recognizes SQM's sustainable work
03/Dec/2019
The International Fertilizer Association (IFA) held its Annual Strategic Forum in Paris (Versailles), where it presented SQM with a gold medal in the category "Leadership in 2019", demonstrating that the company's sustainable work is in line with world-class standards.
For the first time ever, IFA awarded gold medals to 34 fertilizer producers for their leadership in safety, health and environmental matters, which is well aligned with the performance principles required by the international organization: safety, emissions and energy efficiency.
Frank Biot, SQM's Potassium and Nitrate Senior Commercial Vice President, received the gold medal from IFA president, Mostafa Terrab. The SQM representative expressed his gratification for the award and confirmed that the company's commitment to sustainable fertilizer production is how all work should be done.
Rakesh Kapur, past president of IFA, announced that each year from now on the association would recognize companies that had participated in all reference points such as plant safety, production emissions and energy efficiency through certificates validated by Protect & Sustain, which are recognized as IFA industry stewardship champions.
Each year the global fertilizer industry produces around 170 million tons of fertilizing nutrients that are used throughout the world to boost sustainable agricultural production.
Specialty Plant Nutrition:
SQM produces potassium nitrate with the world's smallest carbon footprint. Via fertirrigation, soil and foliar applications, this fertilizer contributes the macro and micro elements necessary for boosting profitability in the farming business. Other benefits include being chlorine-free, water soluble and its quick absorption.
SQM's potassium and nitrate reserves, know-how, vast distribution network and diversified customer base position the company as a leader in the business line.
The high demand for this product is driven by current land costs, water scarcity and a rise in high-quality crops.
IFA
The International Fertilizer Association (IFA) was founded in 1927 in London as the International Superphosphate Manufacturers Association. It is a nonprofit organization that represents the global fertilizer industry on issues related to the promotion of plant nutrients, improvement of the operating environment of the member companies and the collection and compilation of industry information. IFA members serve farmers everywhere as they meet the world's growing food and bioenergy needs in a sustainable manner. The organization is based in Paris, France, and has 525 members in 85 countries. With about half of its membership based in developing countries, IFA member companies represent all activities related to the production, trade, transport and distribution of every type of fertilizer, their raw materials and intermediates.