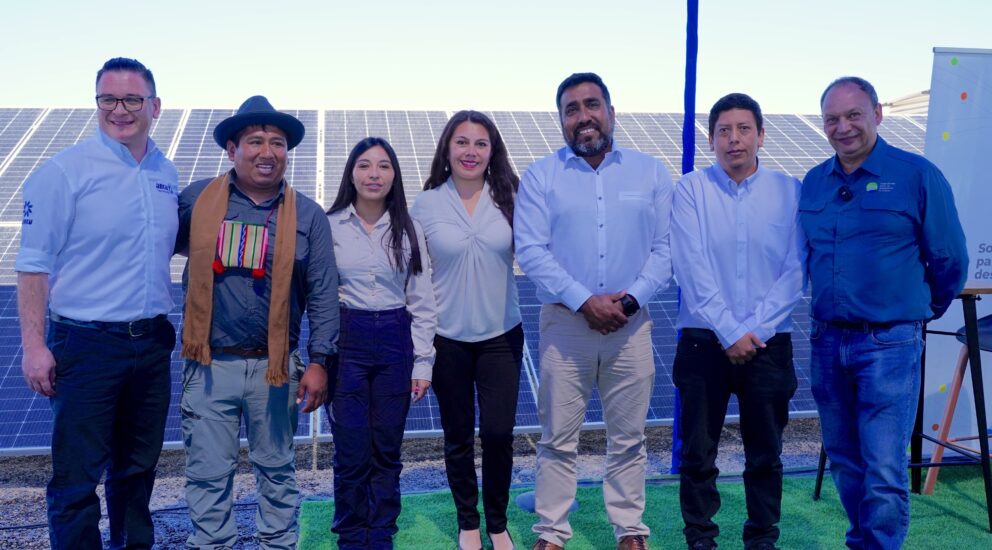 Inauguration of modern power system for ranchers and farmers in La Tirana
16/May/2023
The ceremony, held at the El Carmelo Alfalfa Production Center, was led by community and regional authorities, as well as the benefited families, representatives from SQM, and special guests who celebrated the inauguration of this environmentally friendly, clean energy project that will result in monthly savings of more than Ch$800,000.
As of today, ranchers and farmers in the El Carmelo area of La Tirana have a modern photovoltaic facility that will enable them to power the three-phase pumping and irrigation systems at the El Carmelo Alfalfa Production Center. The project is led by the "Pampa del Tamarugal" Indigenous Farmers Association, along with SQM and the Chilean National Forestry Corporation (CONAF).
This project, which is part of the ongoing efforts developed by this three-part collaboration, aims to significantly contribute to reducing the carbon footprint and optimizing environmental conservation.
"These panels will power the equipment used to irrigate the 30 hectares that will be cultivated here. Currently, we already have 10 hectares planted and in production, and this initiative will reduce CO2 emissions, as well as monthly costs, which are quite high. This is great support for each of the families who are part of the association," said Richards Challapa, president of the Indigenous Farmers Association, during the inauguration ceremony.
The 40 kWp On-Grid photovoltaic facility is made up of 74 panels with 540W capacity, which will allow for savings of nearly Ch$800,000 per month in electricity costs.
Pablo Pisani, Director of Communities and Public Affairs for SQM's Nitrate and Iodine businesses, mentioned that this project "has been growing in importance for us as a company for some time now because we believe it has great potential, whether it's due to the organization or the collaborative work among the involved parties, the modern irrigation system or the photovoltaic energy that we are inaugurating today. With that in mind, we hope to continue working hand in hand with this community, which has shown great commitment and affection for this project."
The project was developed by the company Antü, winners of SQM's "More Lithium, Less Footprint" initiative, which supports ideas that contribute to and have a positive impact on efforts related to electromobility and energy storage systems.
"We were fortunate to be selected for the initiative, and today we are putting it into action through a proposal for renewable and clean energy for the community. We are proud to carry out this project. While it is a challenge to coordinate interests and wills, there is a lot to be learned in order to standardize the process and expand it to more communities around the country," commented Manuel Mata, CEO of Antü Energía.
It is worth noting that the El Carmelo Alfalfa Production Center is an initiative primarily developed by its own users, with ongoing support from agricultural engineers from SQM's Atacama Tierra Fértil program.
Regarding the beginnings of this impressive initiative, Natalia Ortega, regional director of CONAF Tarapacá, stated that "as a result of the food scarcity for livestock, animals suffered, and the decision was made to establish this three-way agreement to carry out this initiative, which involves producing alfalfa to feed the community's livestock. Currently, this project includes a significant plan for the future."
Pozo Almonte Mayor Richard Godoy added, "Strategic alliances between the public and private sectors yield these results, which benefit our neighbors in El Tamarugal. Here, we see the future projected growth and how it benefits the community and strengthens competitiveness. We are very grateful for the work done by SQM, CONAF and all those who support our community farmers."
This energy project serves as a complement to a variety of previous collaborations, such as providing a tractor and tools for planting, harvesting and baling alfalfa, along with offering ongoing training and support provided by agronomists from SQM.
Agricultura
Energías limpias
Sostenibilidad