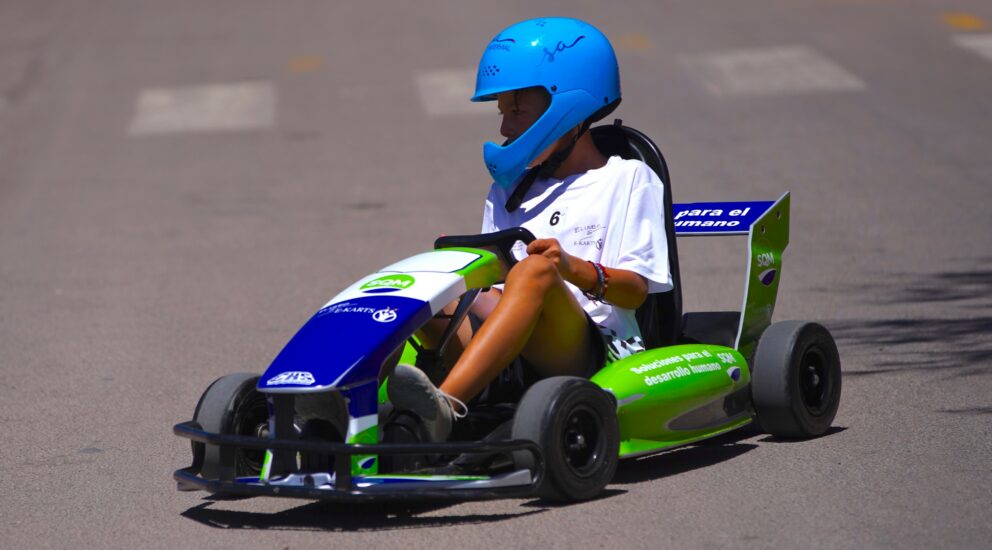 Iquique, Pozo Almonte and Antofagasta host the first dates of the E-Kart 2023 tour
19/May/2023
Children and teenagers from 7 to 18 years old will be able to drive an electric vehicle on an E-Kart circuit, under the guidance of national race car driver Eliseo Salazar.
The north is getting ready for the excitement generated by Eliseo E-Karts, an event organized by SQM and aimed at young kids, who will test their driving skills aboard an electric go-kart on a unique circuit guided by former Formula 1 driver, Eliseo Salazar.
The free, environmentally friendly activity, which seeks to bring electric mobility closer to a new generation, will debut in Iquique, specifically in the Arturo Prat University (UNAP) parking lot, on Saturday, May 20th at 11:00 am. On Tuesday the 23rd, the event will take place in Pozo Almonte, in front of Sergio Gonzalez High School; the Antofagasta Region will receive the fleet of electric cars on Saturday, May 27th, in the Plaza Colon, across from the Regional Government Office.
"We as a company are committed to moving towards a more sustainable industry, hand in hand with environmental care and the reduction of polluting substances, which is why this initiative seeks to make the importance of electric mobility more public while bringing together future generations, understanding that combustion cars will no longer be on the market by 2035—an international measure that seeks to curb climate change," said Pablo Pisani, SQM's Director of Communities and Public Affairs for SQM's Nitrate and Iodine businesses.
The national race car driver in charge of the initiative, Eliseo Salazar, extended the following invitation to families in the north. "This area of our country boasts a privileged climate, allowing us to carry out these activities throughout the year. On this occasion, and in partnership with SQM, we want to promote the importance of electromobility, introducing the subject in the best possible way: by driving an electric vehicle and establishing a unique experience in their memories," he added.
The fun and adrenaline of electric karting will soon reach other locations in the north, such as Tocopilla, María Elena and Toconao.
Sign up here: WWW.Eliseo.com. Limited spaces available.
Comunidad
Deporte
Electromovilidad