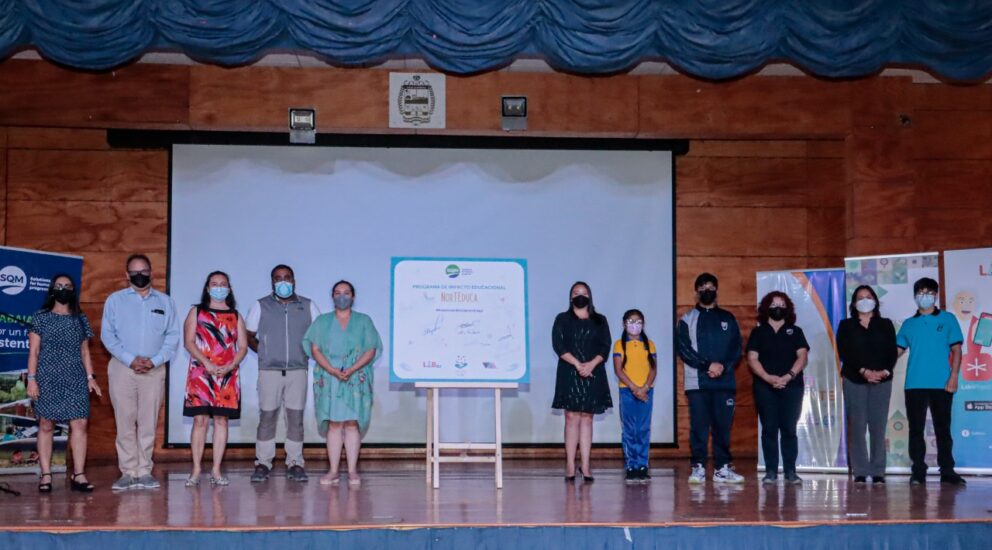 NorTeduca innovative educational program launched
12/Apr/2022
More than 3,000 children and youth from northern Chile will take part in the initiative, a joint effort between SQM, Lab4U, Fundación VOA and municipalities in the Tarapacá and Antofagasta regions.
The towns of Tocopilla and Pozo Almonte hosted celebrations for the launch of NorTeduca, an educational program supported by SQM in partnership with Fundación Vínculo-Oportunidad-Aprendizaje (VOA) and Lab4U that seeks to improve educational quality in seven schools in northern Chile through this collaboration.
Regional and municipal officials and executives from the chemical company attended the event to kick off the program, which includes the use of innovative methodologies, tangible materials and pedagogical strategies. The initiative also accompanies parents and teachers in the field and builds a learning community that will benefit more than 3,000 PK-12 students in seven localities of the Tarapacá and Antofagasta regions as well as more than 80 teachers and educators, impacting more than a thousand families in the territory.
Pablo Pisani, Director of Nitrates and Iodine Communities and Public Affairs for SQM's north zone affirmed, "As a company we are committed to strengthening education in northern Chile, in alignment with the United Nations' Sustainable Development Goals and our own Sustainability Plan. That is why we continuously collaborate with innovative programs that contribute to improving the quality of education in communities where the company operates. These programs bring teaching strategies that are specially designed for each stage of development to remote rural areas and harness the home as a learning environment.
One of the partners in this challenging program is Lab4U, a Chilean firm that seeks to contribute to the democratization of the sciences through an app that allows cellphones to be used as experimental tools in the classroom.  Speaking on this topic, the company's CEO, Komal Dadlani, commented that this year, "we will be able to work with different communities, the eight NorTeduca schools and the VOA foundation, which has brought us together to support PK to 12 students on such aspects as socio-emotional skills, 21st century skills, through science, mathematics, language and other subject areas.  The purpose is to find the next agents of change in these communities and to strengthen our commitment to education in northern Chile."
Alliances with the public sector are important for this work, as presidential delegate for Tamarugal, Luz González Milla, recognized by affirming, "These partnerships help us to strengthen deficiencies we sometimes have because opportunities and connectivity are lacking and communities in the province are so disperse.  The fact that a private company is working with a foundation and the municipality on education, science and technology concerns makes this a wonderful initiative that we hope will endure over time and benefit more girls and boys of Tamarugal."
For his part, Tocopillo municipal representative Darío Rojas expressed his appreciation for the initiative, commenting that "as a municipality, we are very pleased that SQM is again supporting our students' development; it is crucial to have these programs that provide technology and allow every girl and boy to have a laboratory in their cell phone.  We thank the company and the VOA foundation for strengthening the knowledge of the young people who will be responsible for building a better future."
For Jessica Morales, Education Director at Fundación VOA, this innovative mode of teaching "goes beyond science, emerging from the work of teachers, who know from experience how learning can improve through play and hands-on work.  Children today don't learn by doing, and that connection with the material world is important for their development and for a quality education."
Representatives of the schools involved also attended the signing ceremony. Pedro Olivares, a teacher at Oscar Bonilla High School in Antofagasta, commented that "being part of this experience is gratifying, as it enables us to provide tools that leverage new technologies. And the fact that the ceremony is being held in Tocopilla is also important, because it connects different localities of the region with the program."
Abigail Sánchez, a student at Bicentenario Metodista William Taylor High School in Alto Hospicio, spoke about her experience with the NorTeduca methodology, affirming, "We've conducted experiments to simulate blood glucose levels and it was very instructive and fun. Experimentation made it easier to understand."
This program reaffirming SQM's commitment to promoting quality education in northern Chile will benefit schools in Pozo Almonte and Alto Hospicio, including Bicentenario Metodista William Taylor High School, Alcalde Sergio González Gutiérrez High School and La Tirana Primary School. In the Antofagasta Region, it includes Oscar Bonilla High School, in the regional capital, as well as D-133 Arturo Pérez Canto School in María Elena, and Diego Portales High School and Carlos Condell Primary School in Tocopilla.