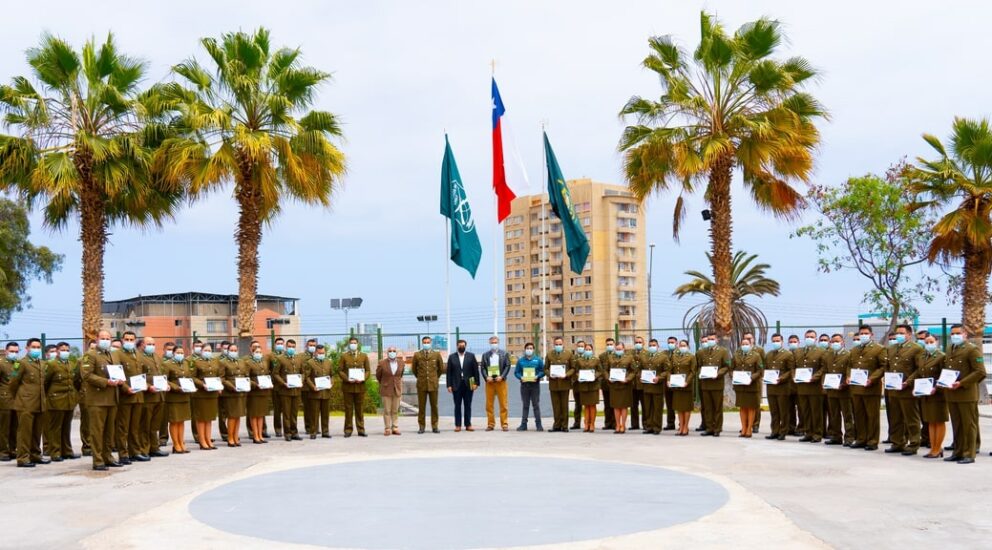 The first Responsible Care course at ESUCAR Antofagasta certified 70 non-commissioned police officers
08/Nov/2021
Seventy students from the Carabineros (uniformed police) School for Non-commissioned Officers (ESUCAR) in Antofagasta participated in a certificate course on handling chemical substances. The course was an Association of Industrial Chemicals (ASIQUIM) initiative to raise awareness regarding Responsible Care, an international management system, and offer training at schools, universities and government institutions.
The four online theory classes and one in-person practical session were taught by employees from ASIQUIM member companies: SQM, Enaex, Suatrans and Polykarpo. Instructors applied their knowledge to train the officers on chemical substances, handling methods and the police officer's role in emergencies and roadway transportation inspections. At the end of the in-person class, workshop participants were awarded certificates for their participation and perseverance.
The event, held at ESUCAR facilities, was attended by representatives from ASIQUIM's North Commission, including industry association president Werner Watznauer, who remarked: "This is a great initiative. It helps us establish good contact with the communities that are very close to our 130 member companies. It is very useful because it teaches emergency protocols and puts them into practice with simulations that involve the key community figures, like Carabineros, who always respond in these situations.
ASIQUIM North Commission President, José Contreras, noted, "Being present at all industry-related activities is very important to ASIQUIM, particularly when the activity is associated with the community and organizations as important as the Carabineros de Chile. Our primary goal is to drive the chemical industry to improve quality standards and continue contributing to society with solutions that draw on the companies' innovative, sustainable experience."
Pablo Pisani, Director of Communications, Sustainability and Public Affairs at SQM, explained: "As a company, we are proud to voluntarily abide by Responsible Care, an international management system that is aligned with the SQM Sustainability Plan and promotes continuous improvement and excellence in areas like occupational health, environmental protection, industrial safety and facility security. Our Nueva Victoria and Puerto de Tocopilla operations are Responsible Care certified. Including a key institution like the Carabineros is progress toward promoting responsible management of chemical products in a collaborative manner and in coordination with the communities where we operate."
Community Outreach
Captain Pablo de la Sotta, Group Commander at ESUCAR Antofagasta, emphasized the importance of the training held for the first time locally. Students in their second year of training received training on inspection, protocols and steps to address emergencies related to the use of chemical products. "It is a pleasure to have the opportunity ASIQUIM is offering. This knowledge and community outreach initiative earns this accreditation that we seek as an institution," he said.
Officer Paulina Torres Álvarez expressed her gratitude for the opportunity, which she said enables the police officers to improve their prospects within the institution. "It was a good training. We need to know this, especially because people think police officers should be able to respond to anything. What better than having a right answer?" she added.
Since 2015, ASIQUIM has offered courses to different police groups at the Non-commissioned Officer School in Concepción. This first course in northern Chile was an achievement sponsored by ASIQUIM and its member companies to continue building ties to communities and providing tools that are great support for daily functions. We hope to replicate the course at ESUCAR Santiago and continue offering the program at schools in northern and southern Chile.