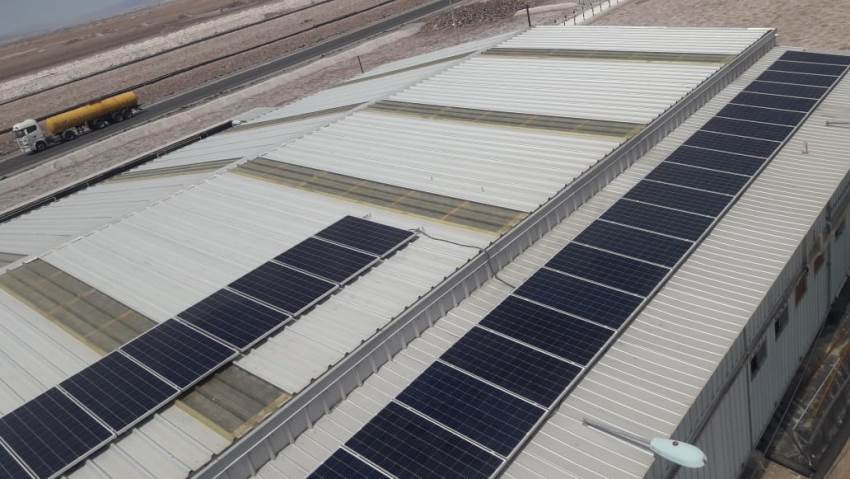 Salar de Atacama Boasts First Self-Sustainable Maintenance Shop
19/Dec/2019
(Español) El proyecto pretende generar el 60% de la energía que se consume en el área y disminuir en 6 toneladas anuales las emisiones de CO2.
The project aims to generate 60% of the energy consumed by the area and reduce annual CO2 emissions by 6 tons.
Northern Chile is known for its beautiful landscapes, the richness of its land and its extreme climate. It is home to the world's driest desert, with the lowest precipitation indexes and the highest levels of solar radiation. It was exactly these elements that turned on a light bulb for the Mine Maintenance superintendent's team.
In keeping with our Sustainable Development Policy, the members of this unit, which is part of the Salar Production Division, began working on an unprecedented project to use solar energy to power the Maintenance Shop in a way that is friendlier towards and more respectful of the environment and neighboring communities.
"This came about from a request from our workers and supervisors, who challenged themselves to generate initiatives to help care for our environment," explained Carlos Vallejos, superintendent of Mine Maintenance in Salar. He added that "100% of the project was designed and executed by his team, including initial studies, procurement, resources, supplies and subsequent installation of photovoltaic panels."
Fabián Muñoz and a group of coworkers on his same shift came up with the innovative idea to cogenerate clean energies within the maintenance shop.
"On October 6th, the initiative was given the official green light. It functions using an 'On Grid' technology, a system that is connected to the electricity grid and that, at the same time, aims to self-generate power using a system of solar panels. Thanks to the panels installed on the roof, we have been able to provide 60% of the power required for the shop during the day," explained Muñoz.
The panels produce 68 kwh/day, giving annual production of 19 megawatts, which is generated from 7:00 a.m.to 7:00 p.m. (the period of greatest solar radiation). After that time, the shop begins to operate from the electricity grid until 06:59 a.m., when the photovoltaic panels once again feed the facility.
Gilbert Maldonado, Solar Production Manager, expressed his admiration for this achievement, "since it is always important to highlight this type of initiative that self-sustain the power required to operate and, at the same time, contribute to the environment by generating clean energy."