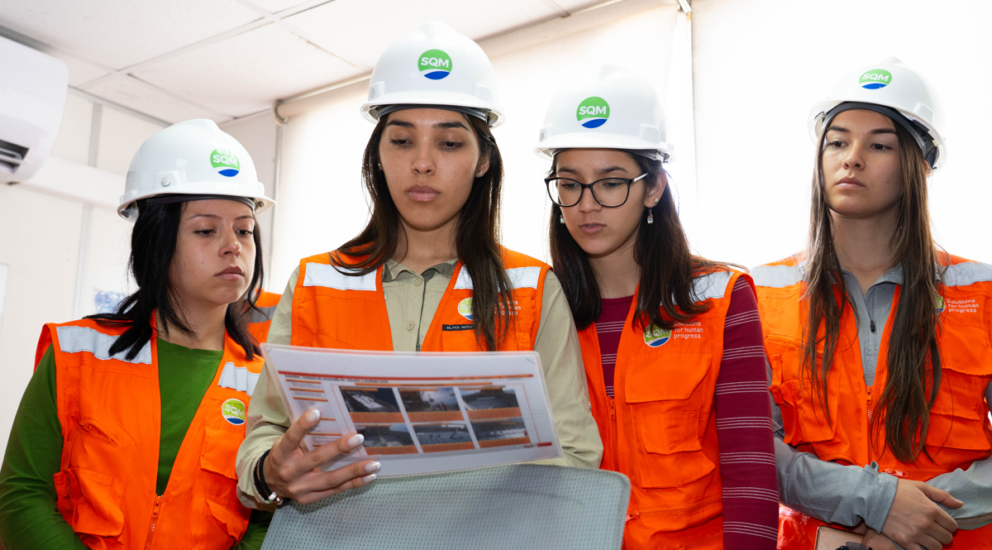 SQM appears for the first time in the Merco University Talent 2023 Ranking
15/Nov/2023
The company focused on generating solutions for human progress ranked 63rd in the fifth edition of the Corporate Reputation Business Monitor (MERCO), which evaluates the best companies to work for according to university students in Chile.
Reaffirming the commitments in the three main axes of its sustainability aspiration—contributing to sustainable industries, prioritizing the wellbeing of its people and the environment, SQM once again stood out in the Merco Talent 2023 Ranking, this time in the university world. This study reflects the firm steps the chemical company is taking towards a more responsible, friendly and sustainable industry. For the first time ever, the chemical company placed in the top 100 on the overall ranking, achieving the 63rd spot in the general business measurement published in August of this year, while maintaining its fifth place standing in the mining category.
Thus, SQM continues to advance and validate itself as an organization willing to continue innovating in its processes for attracting and retaining human capital, always based on its four core values: Excellence, Safety, Integrity and Sustainability.
For Bárbara Blümel, SQM's Deputy Manager of Talent Attraction and Diversity, this ranking not only shows the opinion of more than five thousand university students, but also "invites us to continue advancing towards a sustainable industry, where people are the core of management and where future professionals have a lot to say. We are convinced that as long as we attract good people and have innovative retention strategies, we will be able to continue advancing and consolidating ourselves locally and globally as we have been doing recently, without neglecting the development of surrounding communities."
Although the company is just making its debut in this type of university reputation study, these good results respond, among other things, to key concepts for SQM, as stated in its most recent Sustainability Report, where people are the center and the basis of its work, promoting respectful labor relations and generating the necessary conditions for each worker to develop his or her capabilities.
The executive acknowledged the great opportunity provided by this type of study, adding that "it allows us to strengthen our work and corroborate that each of the programs, seminars, meetings and initiatives that we have developed in recent years in this area have had great results, such as being valued and considered by the professionals of tomorrow. As a company, we currently carry out relevant programs in northern Chile to attract great talent and cultivate an environment of development, inclusion and diversity at each of our sites.
The fifth version of the Merco University Talent Chile 2023 ranking considered a universe of 5,038 university students, 95% Chilean and 5% foreign. The best represented areas of study were programs linked to "engineering and technology" (28.5%) and "economics and finance" (19.9%).
Diversity and Inclusion Policy
With the purpose of building diverse teams, taking charge of inclusion and insertion of women and new professionals in mining, SQM has done important work to adapt its selection and recruitment systems, highlighting aspects such as innovation, creativity and teamwork.
This policy looks to challenge selection and evaluation processes in order to facilitate meritocracy and attract, develop and retain talented people. It also aims to foster equal opportunities, valuing and evaluating people based on their merit, performance and effort to generate value.
These innovative concepts and processes enable SQM to aspire to make a distinctive contribution to the sustainable development of the world, providing solutions for industries essential to human progress in harmony with the environment and communities.
In October of this year, a group of female students from Pontificia Universidad Católica, Universidad Arturo Prat in Iquique and Universidad Católica del Norte toured various SQM operations in northern Chile as part of the Job Placement Mentoring Program executed together with REDEG. This initiative incorporates young women in their last year of STEM (science, technology, engineering and math) programs in an eight-month mentoring program to learn from SQM's front-line professional women through a variety of activities.