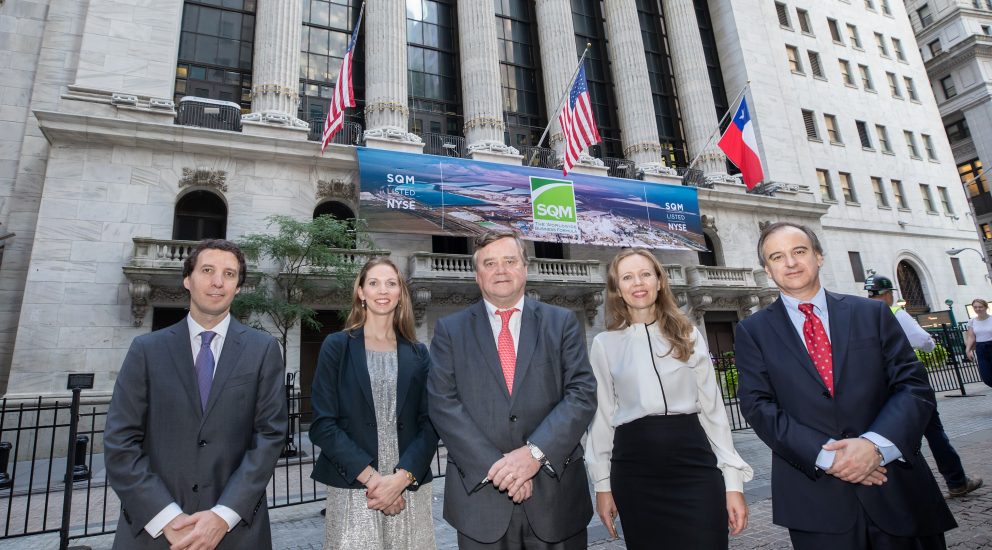 SQM celebró 25 años en la Bolsa de Nueva York
08/Sep/2018
En la cita anual del SQM Investor Day, los máximos representantes de nuestra empresa fueron invitados a realizar el tradicional ring the bell en la mayor plaza bursátil del mundo
En la cita anual del SQM Investor Day, los máximos representantes de nuestra empresa fueron invitados a realizar el tradicional Ring the bell en la mayor plaza bursátil del mundo.
El próximo 21 de septiembre SQM cumplirá 25 años de destacada trayectoria en la Bolsa de Nueva York, y por esta razón, con motivo del SQM Day anual nuestra empresa fue homenajeada en la NYSE. En la oportunidad, Patricio de Solminihac, en su calidad de gerente general, recibió las felicitaciones del Bank of New York y fue invitado a firmar el libro de invitados y a realizar el tradicional Opening bell con que se da inicio a la apertura de los mercados.
En septiembre de 1993, SQM emitió sus primeros ADR (American Depository Receipts, el mecanismo para colocar acciones de sociedades extranjeras en el mercado de Estados Unidos). Este significaría un paso fundamental para el desarrollo del proyecto del Salar de Atacama, adquirido ese mismo año 1993, y para el enorme crecimiento productivo y proyección internacional que éste ha significado para nuestra Compañía. Estos primeros ADR fueron también el inicio de una exitosa historia en la principal plaza bursátil del mundo, al punto que hoy la acción de Soqui es el título chileno más transado en la NYSE.
En este aniversario 25, el logo de SQM estuvo en el frontis de la NYSE, en las pantallas de la bolsa de Nueva York, y también detrás del podio donde se realizó el Opening bell.
Tras esta ceremonia, el equipo de Investor Relations de SQM -integrado por nuestro gerente general Patricio de Solminihac; Ricardo Ramos, CFO y próximo gerente general; Gerardo Illanes, vicepresidente de Finanzas Corporativas; Kelly O´Brien, Head of Investor Relations: e Irina Axenova, integrante del equipo de Investor Relations de SQM-, realizó una presentación ante un centenar de inversionistas sobre el presente de la Compañía y los planes para las cinco líneas de negocio.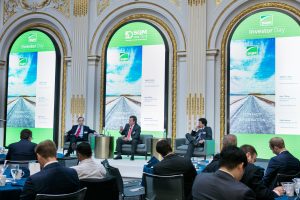 Patricio de Solminihac, quien deja la gerencia general el 31 de diciembre de este año, se refirió entre otros temas al mercado del litio: "vemos un mercado muy saludable, creciendo sobre el 15% anual, y por muchos años más", dijo. "Este mercado necesita que se desarrollen muchos proyectos grandes para mantenerse en equilibrios".
También se refirió a Ricardo Ramos, quien lo sucederá en el cargo, destacando su trayectoria y conocimiento de la compañía: De los 29 años que él ha trabajado en SQM, los últimos 20 años hemos trabajado de cerca, y Ricardo ha sido parte importante del equipo que diseñó e implementó el nuevo plan de desarrollo de la empresa; yo lo recomendé al Directorio, y creo que fue una muy buena decisión. Ricardo es una persona muy respetada por la organización".
De Solminihac se despidió de los inversionistas con emotivas palabras, y en medio de los aplausos de los presentes.
Por su parte, Ricardo Ramos reiteró la confianza en el mercado del litio y dijo que en el pasado se había subestimado la demanda: "Una pequeña variación en la demanda por autos eléctricos puede tener un gran impacto en la demanda total".
Descargar presentación SQM Investor Day
New York SQM Investor Day
NYSE
SQM