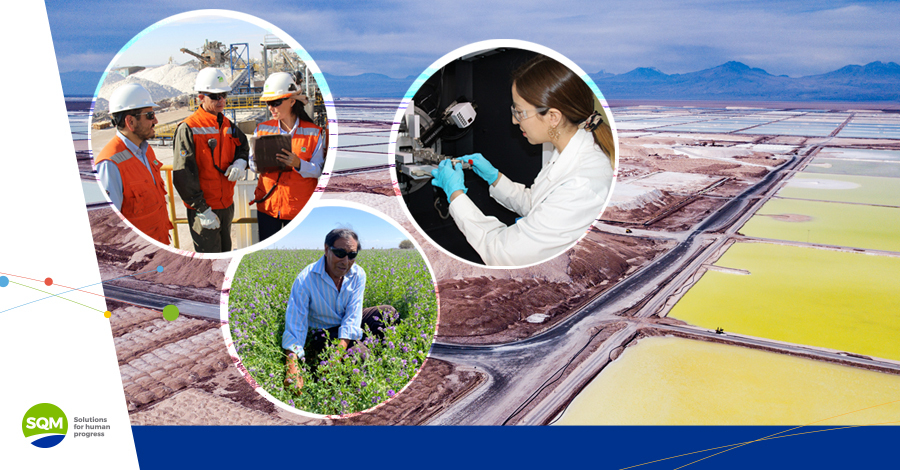 SQM among Chile's most sustainable companies as measured by ESG score
22/Jan/2021
S&P Dow Jones Indices and Santiago Exchange presented the first IPSA ESG Tilted Index measuring Chilean companies on environmental, social and governance criteria.
SQM is among the top-five Chilean companies in terms of ESG score – environmental, social and governance – thanks to its commitment to the environment and communities as well as its contributions to sustainable industries, as reflected in a robust Sustainability Plan. The score is part of the new IPSA ESG Tilted Index presented by S&P Dow Jones Indices and Santiago Exchange, which measures Chilean companies on environmental, social and governance criteria.
Inclusion in the index reflects SQM's sound ongoing efforts to adhere to high standards of transparency and public reportability of objectives involving environmental protection, social responsibility and sustainable operations.
SQM presented its 2020 Sustainability Plan, which includes specific goals in several areas, and began international certification processes the commitments therein. Furthermore, in a demonstration of transparency, an online monitoring website was made publicly available to provide information on brine extraction, industrial water, meteorological data, environmental monitoring data and information of interest about the Salar de Atacama operations.
The Sustainability Plan includes goals in the following areas: Our Environment, Our Communities and Our Contribution to Sustainable Industries. More specifically, SQM's commitments to "A Better Environment" include: cutting brine extraction in half by 2030, which began with a 20% reduction in November of this year; reducing continental water consumption by 65% by 2040, starting with 40% by 2030; and being carbon neutral in lithium, potassium chloride and iodine by 2030 and in all products by 2040.
In terms of certification, SQM decided to measure and certify its annual sustainability report using the Global Reporting Initiative (GRI) methodology. Late last year, S&P Dow Jones Index announced the results of its assessment process. SQM qualified for both the DJSI Chile Index and the DJSI MILA Pacific Alliance.
In parallel to these processes, in September 2020 the company's Salar de Atacama operations began the self-assessment developed by the Initiative for Responsible Mining Assurance, IRMA, which is the first step to certification under this demanding standard.
IRMA is an international certification in sustainable mining that measures improvements in employee health and safety, human rights, community involvement, pollution control, rights of indigenous peoples and corporate transparency with tax payments to governments, among other requirements.
In parallel, this month SQM began a diagnostic process with CDP, an international non-profit organization that helps companies and cities disclose their environmental impact related to greenhouse gases, water use and consumption and biodiversity.
Additionally, we presented our new Human Rights Policy, a first step in fulfilling the company's commitments under the United Nations Guiding Principles on Business and Human Rights within the UN's "Protection, Respect and Remedy" framework.
The policy entails being aware of and committing to respecting and promoting human rights while beginning to implement and enhance due diligence mechanisms that progressively help identify, present, mitigate and remedy any potential adverse impact on human rights at our operations.