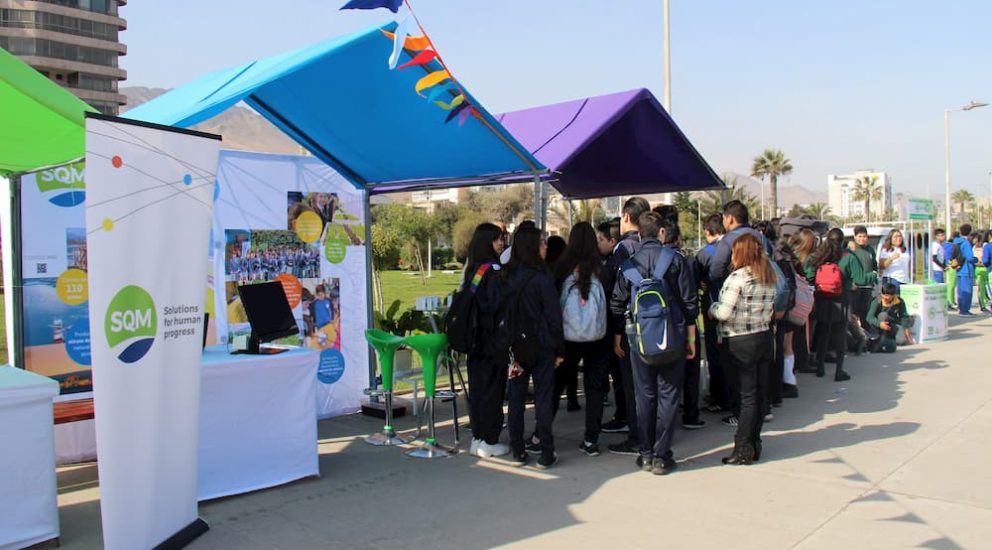 SQM Participated in the First Version of the Innovation Carnival: Going Green in Antofagasta
19/Aug/2019
Close to one thousand students gathered in Parque Croacia to learn more about entrepreneurship, innovation, recycling and the environment.
The first version of the "Innovation Carnival: Going Green" was filled with emotions and surprises as around one thousand seventh to twelfth grade students from the Antofagasta Region listened to experiences shared by distinguished national and international speakers.
The two-day event included a social innovation fair, where SQM had an exhibit on hydroponic produce explaining its Tamarugal Tierra Fértil program, where the company works with male and female farmers from Pozo Almonte, with support from the local municipality.
At the stand, students learned about the recirculating hydroponic irrigation system used to optimize water resources and enable farming in extreme climate conditions. The students also learned about 100% natural, chlorine-free and soluble fertilizers manufactured by SQM in northern Chile that are applied to crops.
Pablo Pisani, Communications, Sustainability and Public Affairs Manager at SQM, commented: "We did not hesitate to be a part of this groundbreaking regional initiative that addresses important topics for the students' education, such as entrepreneurship, social innovation, recycling and the environment, which are priority topics for SQM. We drew a large number of visitors, both students and the general public, that discovered more about the educational and production development projects we are developing in northern Chile."
The event was organized by Verdical with support from Corfo Antofagasta. "Through this activity, we want to deliver a message so that students can learn about the successes and failures of leading entrepreneurs and, therefore, can learn about innovation at an earlier point in their education. We are very pleased with the positive response from the schools," commented Verdical's founding partner, Ricardo Jeria.
Óscar Muñoz from Green Glass said, "The day was very motivating since the kids had the chance to connect with topics about entrepreneurship and to hear our stories and be filled with all the energy that, I hope, can help them develop their own projects."
The Innovation Carnival "Going Green" was also supported by numerous companies and institutions such as SQM, CCU, AIEP Antofagasta, Aguas Antofagasta, Endeavor, Don Pollo, Don Lomo and Alerta, and was sponsored by the Regional Governor, regional environmental officials (Seremi de Medio Ambiente), and regional educational officials (Seremi de Educación), among others.