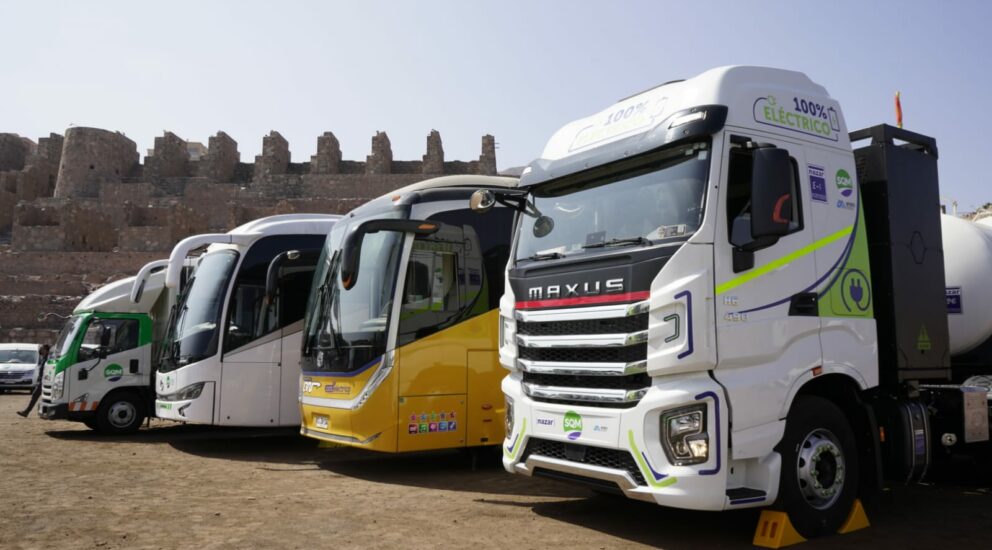 SQM and leading transportation companies launch the largest and most diverse electric fleet in Chile's mining industry
11/Apr/2022
The initiative is part of the company's Sustainability Plan, which seeks to reach carbon neutrality in all of its products by 2040 and contribute to the industry's sustainable development.
The largest and most diverse electric fleet in Chile's mining industry was introduced this morning by SQM and its associated brands Viggo, GreandLeasing, Transportes CVU and Andes Motor. The initiative demonstrates the companies' commitment to becoming more sustainable and reducing CO2 emissions, and is part of SQM's Sustainability Plan, which includes a series of environmental goals and commitments. One of these is to make all of its products carbon neutral by 2040.
The fleet's 34 fully electric vehicles include passenger buses, minibuses, pickup trucks, mobile solar checkpoints, Chile's first high-tonnage electric haul truck, and others. The fleet was presented on the Ruinas de Huanchaca esplanade in Antofagasta at an event that was attended by regional and municipal officials and senior executives and other representatives of the five organizations leading this groundbreaking implementation in the country, which seeks to decentralize electromobility by bringing it to the north of Chile.
"As a company we are proud to launch this fleet, to contribute to the development of electromobility in Chile and promote the use of electric vehicles in northern Chile, covering the Antofagasta and Tarapacá regions. The focus is on operational areas of our work sites and on transporting SQM workers who live throughout the country.  It is a further step in our robust Sustainability Plan that reaffirms our commitment to our immediate surroundings, the communities near our operations and the environment," commented José Miguel Berguño, SQM Senior VP of Corporate Services, during the ceremony.
This milestone represents another major step towards sustainability for the company; others include its participation in the national public-private electromobility agreement and its achievement of the Sello Giro Limpio (Clean Activity Seal), the first Chilean mining company to obtain this certification.
Speaking about the initiative, Regional Governor Ricardo Díaz commented: "There has to be a balance. The key is finding the right measure. It is not found in extremes, but rather in balancing respect for the environment, respect for communities, but balancing it with the action of the industry that gives this region its meaning. We are a mining region, and so we must be capable of moving along this virtuous path."
For her part, Presidential delegate for Antofagasta, Karen Behrens, highlighted: "We appreciate SQM's invitation. As a government, we most certainly want to continue supporting these kinds of initiatives that help to transform the mining industry into a more sustainable, more responsible and more environmentally friendly industry. We want to make Chile's mining industry an example that helps combat the climate crisis."
The official added: "enabling electromobility to thrive is key to achieving our goals for carbon neutrality. Changing the country is a task for all of us, and with actions such as those put forward by SQM today, we are showing that we are on the same path, helping to build a better Chile.
Touring the vehicles
During the event, officials and other invited guests had a chance to toured the different models and learned about their technical features, autonomy and contribution to the environment.  They also got to experience electromobility first-hand by boarding a fully electric minibus for a drive around the area.