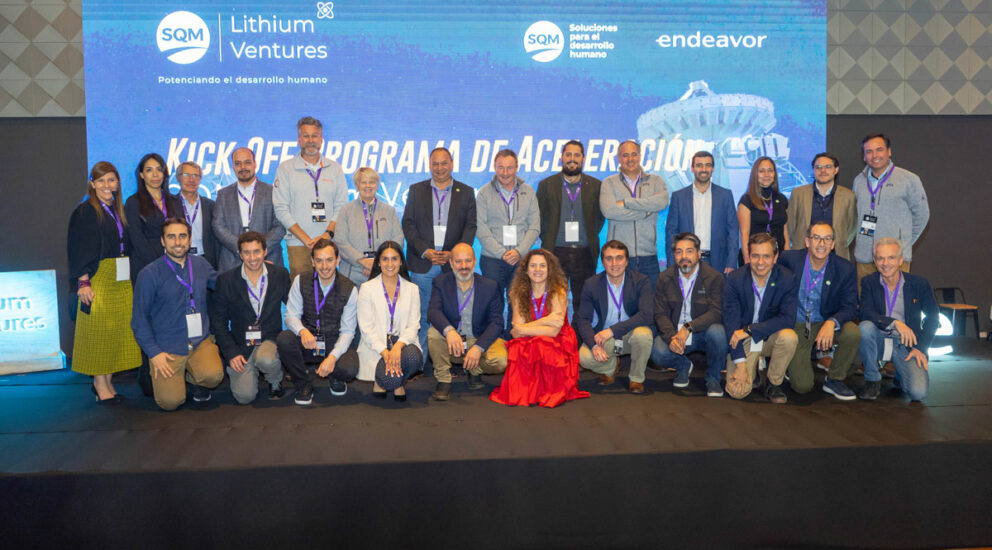 Startup from Antofagasta leads second generation of entrepreneurs from corporate acceleration program SQM Lithium Ventures
13/Sep/2023
Innovations from Chile, Colombia, Argentina, the United States, Germany and the United Kingdom are the protagonists of the second version of SQM's corporate acceleration program. The Antofagasta-based program will impact with innovative solutions to address business challenges in the areas of lithium, water and electromobility.
The main objective of SQM Lithium Ventures, an acceleration program developed in collaboration with Endeavor Atacama, is to contribute and promote new lithium-related technologies. In this second version, 151 startups from Chile and around the world were evaluated in different stages and successive filters by the technical and business teams of SQM and Endeavor, to ultimately select the 12 companies presented at a large-scale event in the city of Antofagasta.
"At SQM, we are convinced that developing a sustainable industry is achieved by promoting opportunities like these, where we seek to accelerate ventures with a high commitment to sustainability and innovation. We are the largest lithium producer in the world and have the smallest carbon footprint. We are therefore proud to continue strengthening this type of initiative," said Carlos Díaz, Executive Vice President of SQM's Lithium Business and program mentor for the last four months, at the kick-off for the initiative.
At the beginning of the activity, he also led a discussion with one of the first generation entrepreneurs, who was accompanied by an Endeavor mentor, where he announced important news in the area of sustainability. "Our Salar de Atacama site today became the first lithium mine in the world to achieve the prestigious IRMA 75 (Initiative for Responsible Mining Assurance), a highly demanding standard that recognizes us as a highly responsible company," added Díaz.
The first startup to take the stage and meet its mentors was Rudanac Biotec, headed by its founder, Nadac Reales, an Antofagasta native who was pleasantly surprised at being selected. "This achievement makes me very happy, as it will allow us to take our technology from my own region to the world. Our biotechnological process uses microorganisms to recover industrial waste such as steel and rubber in a sustainable way without emitting greenhouse gases."
For María de los Ángeles Romo, director of SQM Lithium Ventures, wrapping up the first generation and the great interest shown in this second version, "shows us that Antofagasta, Chile and the world offer many new technologies that are willing to really contribute to sustainable production processes. These startups recognize Antofagasta as a good place to start their businesses related to lithium, water, electromobility and efficient processes."
Also present at the ceremony was Melissa Gajardo, executive director of the CORFO Antofagasta Committee, who highlighted the positive impact of this type of program in the region. "It is very good that entrepreneurs come with sophisticated innovations and local startups participate and deliver solutions that can be incorporated regionally," she added.
Selected Startups
The program's second generation participants are Rudanac (Chile), DetoXyFi (USA) and Kran (Chile) in the area of water; NOC (Colombia), Tozero (Germany), Muon (USA), Prodali (Chile), Cylib (Germany), Inteligencia (Chile), Caravel (USA) and Evove (UK) in the area of lithium and Dynami (Argentina) in the area of electromobility.
José Manuel Correa, Endeavor's executive director for Chile, referred to the corporate acceleration program, stating that "More than 320 entrepreneurs have applied to the program and 24 have been selected to take part in these two generations, seeking to contribute to human progress through three strategic lines (water, lithium and electromobility). We believe it is very important to continue working with startups from all over the world and accelerate processes that are beneficial for the industry and people in general.
The selected entrepreneurs will receive USD 25,000 from SQM, strategic support for defining and scaling their businesses and the possibility of accessing subsequent financing through the SQM Lithium Ventures fund, among other funding opportunities. This version of the program focused on projects proposing solutions to lithium business challenges in one of the three following areas: lithium, water and electromobility.
 What is SQM Lithium Ventures and how will it strengthen the entrepreneurial ecosystem?
Launched at the end of 2022, SQM Lithium Ventures is an unprecedented Chilean initiative that seeks to accelerate entrepreneurship in its different stages, from acceleration to series A investment, in the Antofagasta Region, Chile and the world. This corporate venture capital fund for SQM's lithium business will invest up to US$40 million in water, lithium and electromobility verticals.
2dageneracion
ithiumventuresSQM