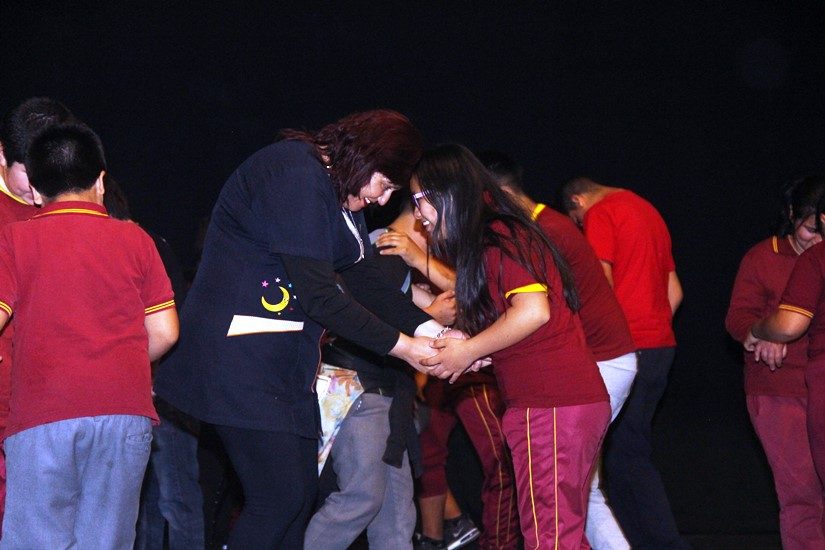 Theater for All
05/Dec/2019
A group of children from Tocopilla enjoyed a playful experience filled with learning and integration thanks to an inclusive theater workshop put on by Fundación Miradas Compartidas.
At the port town's Andrés Pérez Theater, boys and girls from the Pedro Aguirre Cerda Special School in Tocopilla shared with theater and dance specialists who engaged in theatrical dynamics to foster creativity and play among the participating children and youth.
The activity ended with a choreographed piece that allowed the students to build diverse skills. This initiative was co-created with actors that starred in the musical "Súper Down", a highly-praised show sponsored by Fundación Miradas Compartidas. This non-profit foundation's mission is to develop youth with intellectual disabilities. SQM provides support for its programs through its corporate volunteer program, "Lend a Hand to Your Community."
Juan Pérez Choque, SQM's Head of Community Relations, commented: "Through culture and art, we can generate mechanisms for integration and inclusiveness. This is in line with SQM's inclusiveness and diversity policies, which have allowed us to implement diverse initiatives in María Elena and Tocopilla, such as the KarrTEAndo por el Desierto program, whereby a multidisciplinary team of exceptional professionals trains teachers to work with children on the autism spectrum. This topic is just emerging, so SQM is doing ground-breaking work."
Manuel Araya, who is in charge of school life at Tocopilla's Pedro Aguirre Cerda Special School, affirmed, "We are extremely thankful for these workshops because our kids have very few chances to participate and this is truly a reward for them. SQM has always supported us in helping the children and identifying their talents, and that helps improve their quality of life."
María José Verdugo, director of the Miradas Compartidas theater school, emphasized, "We have been working the entire year with inclusive classes at SQM and with the folks from Miradas Compartidas. During our 90-minute class, we play theater games and help increase awareness through playful, creative games and then end the class with choreography. SQM's support is amazing because they are interested in inclusiveness and building awareness among employees regarding inclusiveness. That is something worth admiring in a company."
Volunteering
The partnership between SQM and Miradas Compartidas started in 2018 in Antofagasta, when the company's corporate volunteer program, "Lend a Hand to Your Community" began to participate in different activities and inclusiveness training with the foundation's members.
This year, the collaboration with Miradas Compartidas was expanded to Tocopilla, where programs include several art and sports activities.