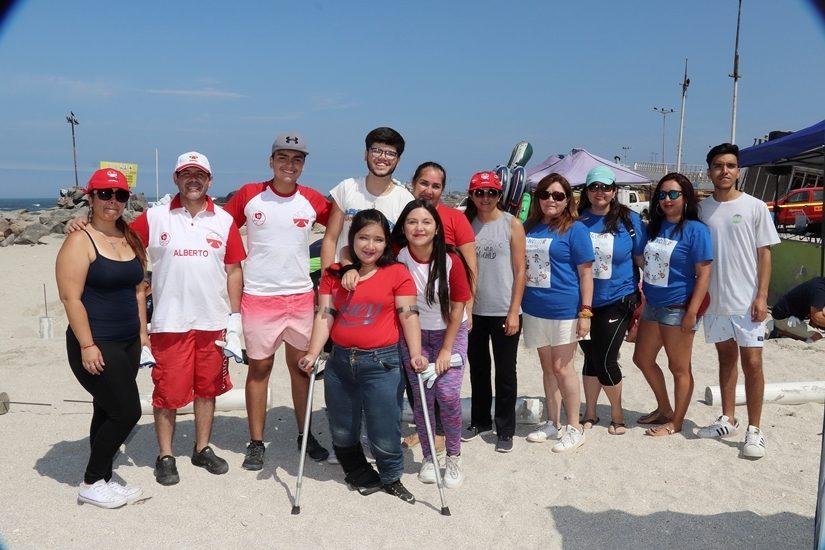 Tocopilla Residents Enjoy First Inclusive Beach
A group of volunteers from the Teletón, the Pedro Aguirre Cerda Special School and SQM's corporate volunteer program built two ramps on Covadonga Beach so people with disabilities could access the shore.
Alberto Azua is the father of Milton, a 14-year-old boy who suffers from a neurological disability. This Tocopilla resident, who also volunteers for the Teletón, has spent the last few years working to make Tocopilla an inclusive city. His latest challenge was to transform Covadonga Beach into a handicap-accessible bathing area. He achieved this dream with support from SQM, the Teletón and representatives from the Pedro Aguirre Cerda Special School.
"Our beaches are very pretty and everyone, without distinction, should be able to enjoy them," explained Alberto Azua, area volunteer coordinator for the Teletón, who went on to explain: "The idea arose from the need to give children and adults with disabilities a more inclusive, more integrated life. Statistics tell us that almost 90 percent of disabled kids are cared for by only their mothers, who sacrifice a lot to deal with the lack of infrastructure in Tocopilla, and this is a major step forward."
Support from SQM's corporate volunteer program, "Lend a Hand to Your Community" was key in building the two ramps, which are 10 and 20 meters long, respectively. The project is just the first of many scheduled for 2020 as part of the program.
Pablo Pisani, Director of Communications, Sustainability and Public Affairs at SQM, commented: "This initiative, which we did not hesitate in supporting, is aligned with our Diversity and Inclusiveness Policy. As a company we are moved to create spaces to give people with disabilities equal rights. We are very proud of the results, which will no doubt improve the quality of life of a large number of Tocopilla families."
In addition to helping build the access ways, the mining company donated materials like PVC pipes, wood and anchor bolts. It also arranged for an architect to advise on project development and execution.
Víctor Calderón is one of the SQM volunteers who participated in the construction of the inclusive access ways. About the experience, he commented: "I am very proud to have been part of this initiative, which will not only benefit people with disabilities but also older adults and other people with reduced mobility. It was a great experience for me to play a small part in developing the Tocopilla community."
This ground-breaking initiative in the port will be replicated at El Salitre Beach.