Our People
SQM's most important asset is the people that make up its team. To strengthen this team, the Company works to identify, develop and fortify each employee's technical and soft skills, while aligning strategic corporate objectives with quality of life and a sense of belonging.
SQM fosters good leadership practices and labor relations to help maintain a positive work environment. It also promotes corporate social responsibility initiatives involving employees and provides benefits for them and their families. In addition, the Company provides its team members with access to training and the opportunity to develop their careers within SQM, while working to guarantee the respect, health and physical integrity of all Company personnel and employees of contractors.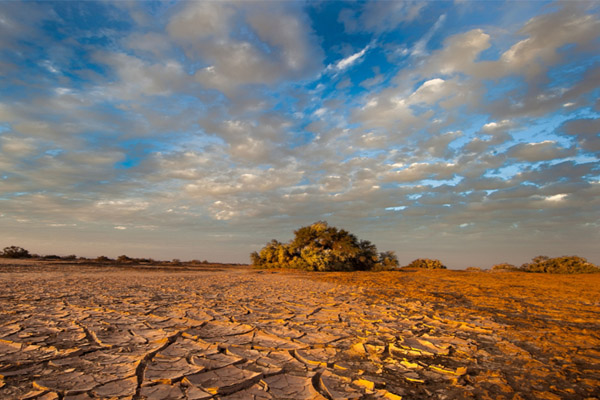 Employee statistics (as of december 2019)
5,274

Of all SQM employees work in Chile

5,741

Total number of direct SQM employees in Chile and the world

467

Employees are foreigners

6,944

Contractors annually on average in 2019

943

Women work at SQM in Chile and around the world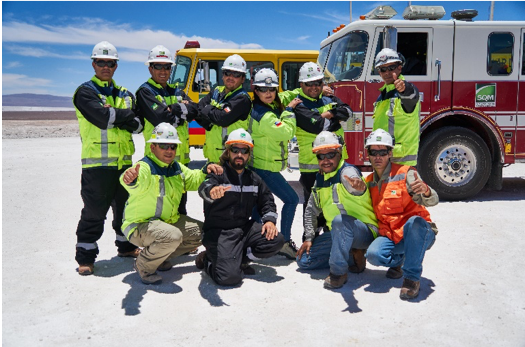 We put a great deal of effort into our selection and recruiting systems in order to build teams of diverse individuals and actively address issues such as inclusiveness and women in mining. In fact, given the unique attributes of our industry and SQM in particular, our Company is made up of a team of individuals from different professions and trades, operators and technicians, men and women of different ages, each of whom contributes their individual capacities, experience and skills to the Company's development.
People are the foundation of our company and, therefore, are very important to SQM. This conviction has motivated us to develop an area specifically concerned with employee wellbeing, benefits and professional development, among other related topics. The different positions within SQM are organized into: general staff, supervisory staff and executive staff. These groups of workers make up multidisciplinary teams and carry out duties at different production, commercial and administrative facilities.
SQM employees by category, gender and percentage in chile and abroad in 2019

SQM employees by category and percentage in chile in 2019

Main regions where employees work by category and percentage in 2019

62.7% of all employees working in the Tarapacá and Antofagasta regions reside in those regions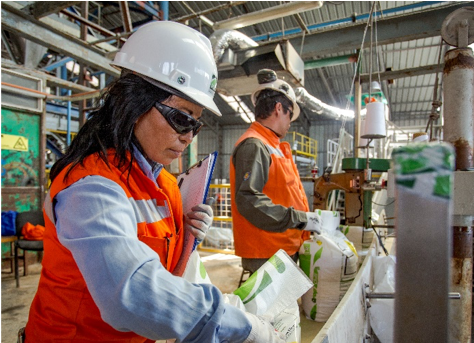 One of our goals is to form heterogeneous teams and expand the female workforce at all levels throughout the organization. at the end of 2019, 16.4% of our workforce was female (amounting to 943 women). this figure is much higher tan the rest of the mining industry, where on average the female workforce is 12%, according to the women in mining working group. this group, made up of representatives from the ministry of mining, ministry of women and gender equity and a large number of mining companies, aims to increase average female participation in mining in chile to 18% by 2025.
16,4%
of SQM employees in Chile are women
*We aim to have a 20% female workforce by 2021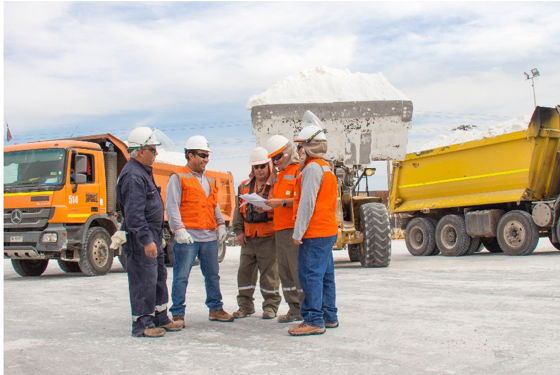 Values shared with our employees When contractors of any size begin working at any sqm site, we provide each of them a copy of our contractor and subcontractor regulations. these regulations inform them of the company's standards, including obligations and responsibilities regarding safeguarding the health and lives of all workers. in addition, sqm organized several training sessions focused specifically on safety matters for contractors as part of its efforts to contribute to risk prevention and align workers with our sustainable development policy and other standards.
SQM's purchasing strategy takes safety and labor regulation elements into account for its procurement processes. essential requirements include: membership in a safety association (mutual in spanish), accident rate certificates, authorization to subcontract, health examinations, compliance with labor laws and employment contracts, personnel skills, equipment certifications, among others. Suppliers are evaluated in different ways, for example, procurement engineers visiting their facilities to observe aspects such as trash separation, noise pollution, industrial waste, wáter consumption, and issuing their suggestions based on their observations. We also have a procurement procedure designed to regulate and standardize this process by defining an effective methodology for managing and controlling purchased products. this process includes making a purchase request, selecting from possible supply sources, analyzing alternatives, placing an order, generating and monitoring purchase orders and paying suppliers. We try to work with suppliers that are located in or near the communities and cities where we operate. we define a local supplier as a company whose main offices are located in the Tarapacá or Antofagasta regions, close to our operations in order to drive and strengthen companies located in each region.
suppliers by type, region and purchases in us$

Distribution of suppliers by region and purchases in us$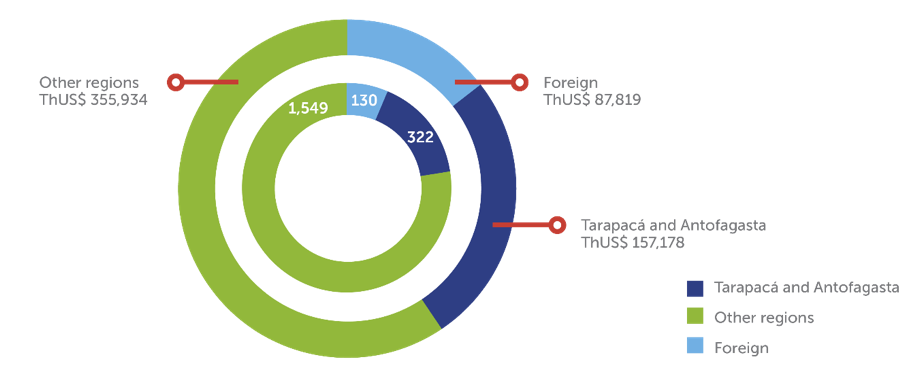 Distribution of suppliers by region, type of supplier and purchases in us$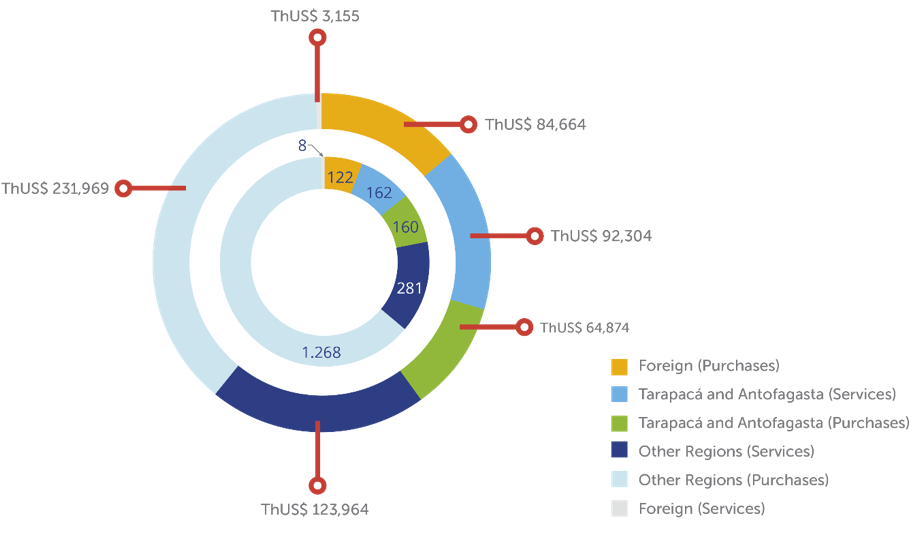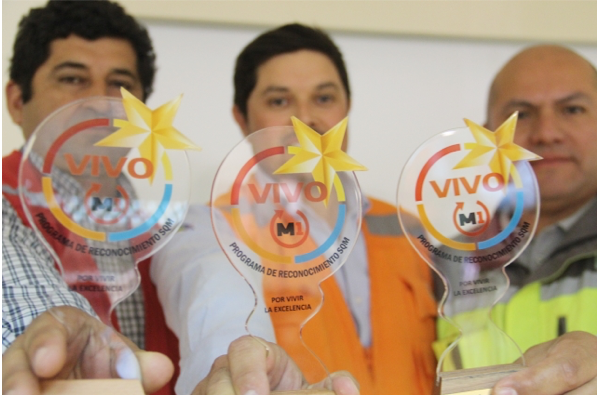 Examples of leaders who work daily following our corporate values: integrity, safety, excellence and sustainability are recognized through our "vivo" recognition program. this initiative arose to strengthen the culture of recognition within the company. In 2019, the company decided to include a team recognition component to acknowledge teams of employees who had implemented improvements in their areas that warrant recognition, among other merits. the pillars of the program are: people development, continuous improvement, common goals and efficient processes. The pillars of the program are: people development, continuous improvement, common goals and efficient processes.
13,855
Recognitions awarded to employees in 2019 in different categories

Given the priority the company places on the professional and educational development of its employees and their children, sqm's excellence scholarship program has granted 980 scholarships since created. A total of 117 scholarships were awarded in 2019 to individuals who demonstrated outstanding academic effort and dedication.
47

Scholarships awarded to SQM employees

980

Education scholarships granted to employees and their children as of december 2019

117

Scholarships awarded in 2019

70

Academic excellence scholarships awarded to children of employees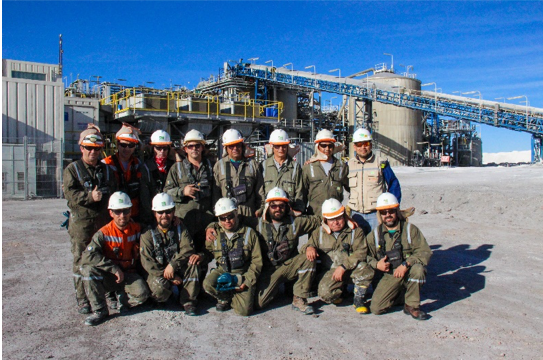 SQM's nine-year-old mobility program is a corporate practice centered around promoting the professional development of our employees through recognition and opportunities to grow within the company, according to their skills, abilities and experience. Employees holding general and supervisory positions may apply to positions published on sqm's intranet and opt for promotions or make lateral shifts from one department to another.
+400
Workers changed jobs in 2019
This generates benefits in terms of organizational culture, such as:
Encouraging good performance and meritocracy.
Retaining and rewarding the best talent.
Reinforcing commitment and motivation.
Favoring opportunities for personal development.
Increasing employability by providing learning opportunities within the organization.
Enriching the company through collaboration among areas.
Strengthening the idea that people are valuable assets for the company.