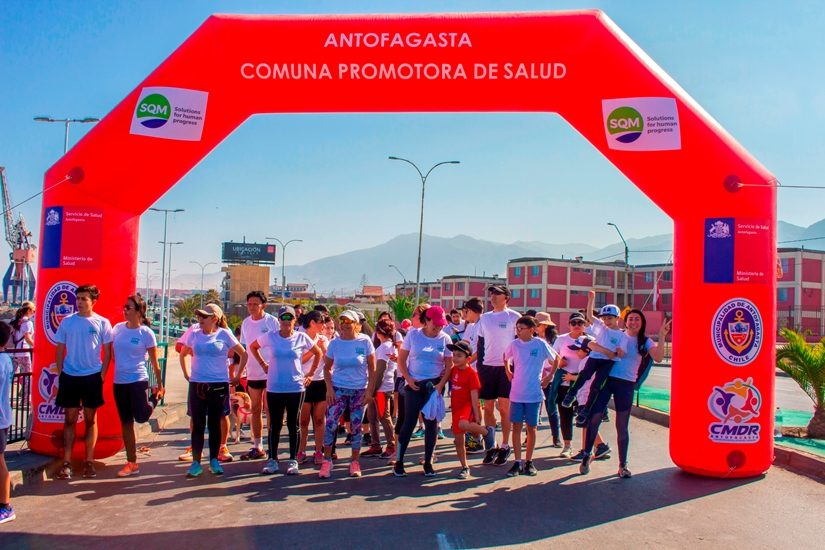 SQM Family Fun Run: Residents of Antofagasta Gather to Promote Sports and Healthy Living
11/Oct/2019
More than 300 children, youth, adults and senior citizens participated in the first family fun run organized by SQM. The event was open to the community and took place today on El Trocadero Beach.
Music, dancing and healthy food were just a few of the attractions at this family activity that turned El Trocadero Beach into the epicenter of sports over the weekend in Antofagasta.
Over 300 athletes and sports enthusiasts of all ages, along with their families and pets, came to enjoy this family event. At 9:00 in the morning, the runners donned the official event shirt and began hydrating and applying sunblock to get ready for the race.
The runners then warmed up by dancing to salsa and reggaeton music. After this fun warm-up, the countdown began for the race, which included two categories (3K and 5K), with the course extending from El Trocadero Beach to Los Pinares Park.
Along the course, runners had access to hydration and bike repair stations and rest areas, and a group of people was available to assist athletes throughout the race.
Alex González ran the 5K together with his family. About the event, he said, "I wanted to participate because the initiative promotes sports and improves the quality of life of everyone taking part. I really appreciate the SQM family fun run. Other companies should definitely follow suit."
Gilbert Maldonado, Production Manager in Salar de Atacama, also participated in the activity along with his wife and kids, reaching the 5K finish line all together. "It has been a lot of fun to participate with my family in this activity that promotes sports, self-care, team building among SQM coworkers and community relations," highlighted the SQM employee.
Pablo Pisani, Director of Communications, Sustainability and Public Affairs at SQM, explained that: "As a company, we organize a variety of activities to encourage healthy living. We have a program that encourages our workers to join in and, through sports, we have been able to strengthen these habits. The run drew a great crowd. The entire community was invited and people of all ages participated. Families with young children in strollers, senior citizens and even pets took part in this family fun run."
During the race, different organizations handed out information and promotional material and people took advantage of rest areas, water stations and bike repair stations for those on two wheels.
The SQM-sponsored activity was organized by CMDR Antofagasta. Other participating institutions included Fundación Recreovia and Fundación La Semilla.