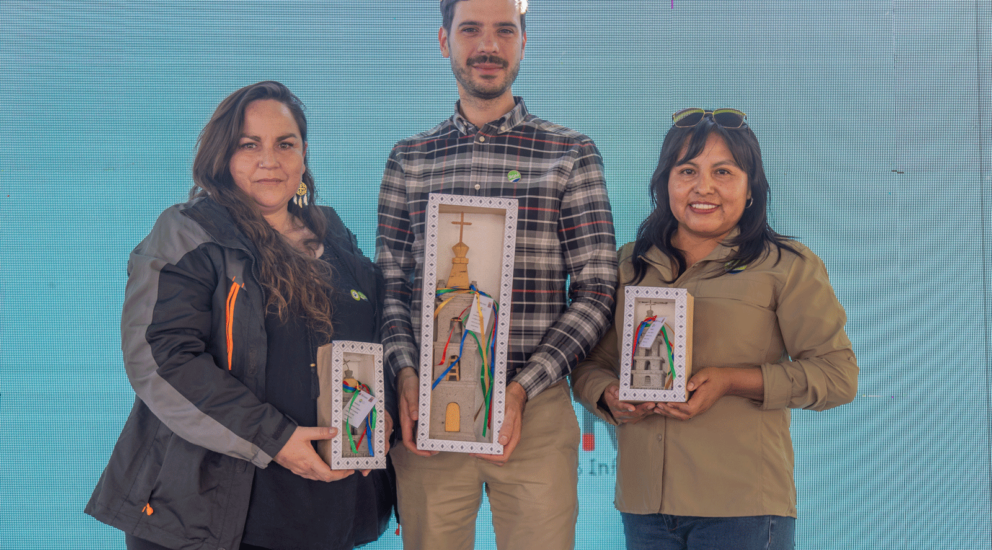 Lickan Antay Preschool and SQM launch educational project to promote the Kunza language
13/Sep/2023
The teaching material can be used in the 33 schools in the region and in the 1,200 preschools run by Fundación Integra throughout Chile. The objective is to recognize the Lickanantay culture, generating learning and emotional, logical, empathic and motor skills in each child.
With the goals of recovering the Kunza language and generating educational material in mind, Fundación Integra and SQM joined forces to develop the project "Alabalti Alabalti, to play and sing with the Lickan Antay culture." The program was launched in Toconao, the birthplace of this idea, created alongside students, educators team and parents of the Lickan Antay Preschool.
Ema Mardones Bórquez, the principal of the Toconao preschool, explained the importance of this initiative: "Through these educational capsules with these books and audiovisual material that we produced in conjunction with SQM, we want to make a contribution to local culture and support all preschools within the educational network."
At the kick-off event, neighbors and families enjoyed the audiovisual capsules with their children in the Toconao square. These short films were set to music by composer, traditional teacher and cultural expert Margarita Chocobar.
Deysa Chocobar, Margarita's sister and a local resident, emphasized how important the launching of this project was for her:                                                                                                                                      "My sister has always been concerned about internalizing and researching everything about our culture. Leaving all this knowledge for future generations is something very dear to her."
This alliance has long been part of SQM's community focus, where the company has placed its main interest in collaborative creation to develop and support educational initiatives to highlight and empower learning in the area.
According to SQM Salar's Sustainability and Community Affairs Manager, Javier Silva, "having this book in our hands and showing the audiovisual capsules is very important. It is the culmination of work dating back many years that helps us to highlight this ancestral culture for the children of Fundación Integra's preschools, not only in San Pedro de Atacama, but also from Arica to Punta Arenas."
The ceremony included a presentation by the students from the school. Using colored pennants as visual aids, they performed a song that has been part of their auditory-kinesthetic learning to be able to differentiate colors and name them in Kunza.