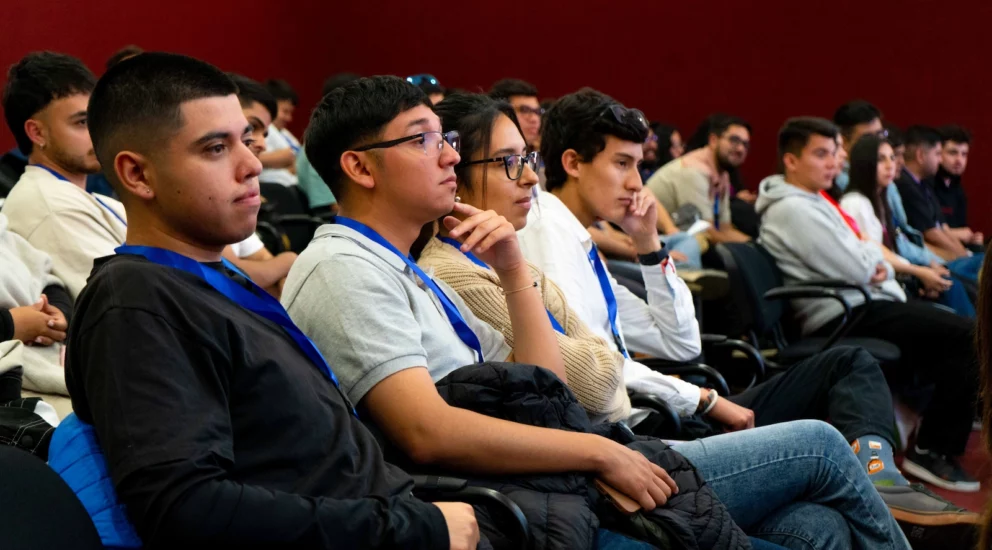 More than 100 registered for conference organized by UCN industrial engineering students
16/Nov/2023
Key topics such as automation, digitalization, artificial intelligence and sustainability were addressed at the event.
For three days, Universidad Católica del Norte (UCN) brought together students, professionals, scholars and researchers from the Northern Macrozone at "ProGreso," a conference organized by "ProICI" to analyze Industry 4.0 and provide knowledge and tools on new technologies and innovations by companies located in the Antofagasta Region.
"We are quite pleased with the turnout of our event, since it exceeded our expectations and let us successfully share all the necessary information for attendees. We also managed to make connections with other universities and companies, because this is a very good opportunity to make contacts," explained Matthew Harbottle, vice president of ProICI.
"ProICI" is a non-profit group formed by students of the Industrial Engineering Department at UCN who organize dynamic activities to promote the progress and knowledge of the department's students. The event agenda was extensive, addressing key topics such as automation, digitalization, artificial intelligence, sustainability, innovations in mining and interconnection of systems in the industry.
The dean of the UCN School of Engineering and Geological Sciences, Dr. Hernán Cáceres, commented that "this demonstrates the potential of UCN's students and the leading role they are taking on. It's not easy to organize a conference of this caliber and we hope, as a university, to continue to support this type of initiative within the industrial engineering program."
SQM provided support for "ProGreso" and arranged for company personnel to speak: Javier Silva, Sustainability Manager; Alejandro Fernández, Head of Productive Development; and Osvaldo Yáñez, Innovation and Development Manager. The latter spoke about the two-way relationship that strengthens the university-company connection.
"Through this type of initiative we can transmit our experience to the students, and when we manage to link up effectively we all win. That way the company can count on having great professionals to join our teams, and the university trains integral professionals who are capable of tackling real problems in the industry," explained the executive.
The event agenda included cross-cutting themes in industry and mining, such as mental health, modern society and sustainability within processes and technological advances. Finally, ProICI calls on students to take part in these initiatives and on authorities to promote them so they are repeated over time.