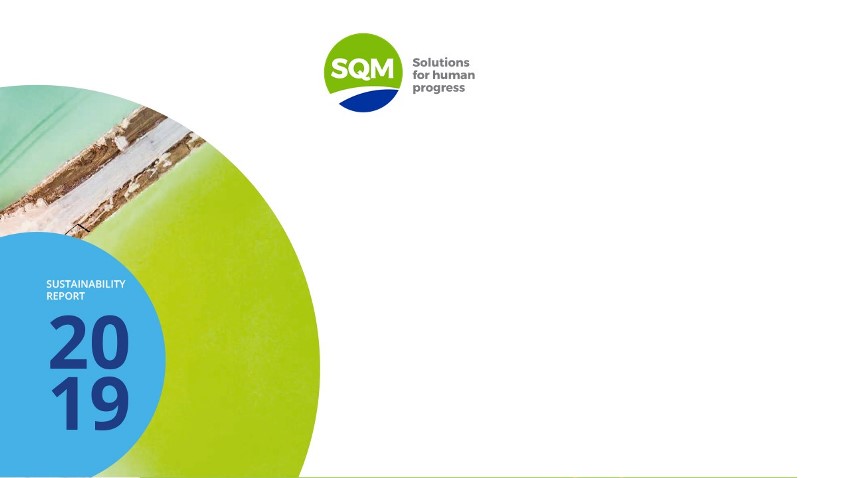 SQM Showcases its Performance in a New Edition of its Sustainability Report
11/Aug/2020
The mining company released to the community and other stakeholders a report detailing its economic, environmental and social performance. This transparency practice was assured externally by the reputable global network KPMG.
SQM has published a Sustainability Report since 2010, which it considers an important management and transparency practice that strengthens ties with its stakeholders. The report conveys its main economic, environmental and social indicators as well as the most important milestones for the year. Report preparation and external assurance are conducted in accordance with the Global Reporting Initiative Guidelines.
Through its 2019 Sustainability Report, the mining company confirms its far-reaching and unwavering commitment to sustainability, placing special emphasis on the creation of shared social value as well as concern and respect for people, the environment and the communities near its operations.
According to Ricardo Ramos, CEO of SQM, "For us, preparing an annual sustainability report is an important exercise in transparency that fills us with pride, since it showcases our performance and the hard work we do every day to make our operations and production sustainable, in addition to all our efforts with communities near our operations, and our work with inclusiveness and gender in the industry."
Pablo Pisani, Director of Communications, Sustainability and Public Affairs at SQM, commented: "The 20-chapter report highlights our efforts stemming from our Sustainable Development Policy, which helps us promote respectful labor relations and foster equal opportunity, inclusiveness, diversity and non-discrimination. We strive to continuously improve matters of safety, health and quality, and work conscientiously towards the environment, respecting current environmental codes and ensuring production processes are managed efficiently in order to minimize impact on the environment and on future generations."
Aligned with this, the company is governed by values that are promoted and must be followed by everyone that engages with the organization on a daily basis: Excellence, Safety and Integrity, which are embedded in the code of ethics that steers performance.
 Key Figures
Some of the most relevant data reported in the latest edition of the report include SQM's international presence in 110 countries, where its five business lines contribute to industries that are strategic for human development: health, technology, food and new energies that move the world.
With 52 years of innovation and technological development, and global leadership in the markets of specialty plant nutrition, iodine, lithium, industrial chemicals and potassium, today our company provides 12,685 jobs in Chile and the world. Of these, 62.7% live and work in the Tarapacá and Antofagasta regions and therefore are considered local. In addition, SQM does business with 322 local suppliers and women account for 16.4% of its global workforce, doubling the figure for the domestic mining industry.
In environmental matters, SQM has obtained 62 environmental authorizations. We conduct robust monitoring of hydrogeological variables, aquatic and land biota, air quality and conserving heritage. We reincorporate into our production processes all waste and treated water. Similarly, 91.1% of the energy used by SQM in its production processes is solar power and, therefore, its products have a low carbon footprint compared to competitors.
With a view to developing broad and technical skills, 5,565 SQM workers were trained on diverse topics: Risk prevention (legal certification and corporate standards), technical skills and skill matrices, e-learning orientation, skill development, technology and language courses.
Furthermore, SQM has a close relationship with more than 20 communities near its operations in the regions of Antofagasta and Tarapacá, where it backs several projects under four lines of action: Education and Culture, Social Development, Historical Heritage and Healthy Living. This bond is built on the basis of transparency, respect, trust and direct involvement.
In 2019 the SQM corporate volunteer program, "Lend a Hand to Your Community" focused its efforts in two areas: Education and Social Development, achieving exceptional results through its network of 311 volunteers, who donated a total of 7,297 hours of volunteer work.
We invite you to read the 2019 Sustainability Report here.