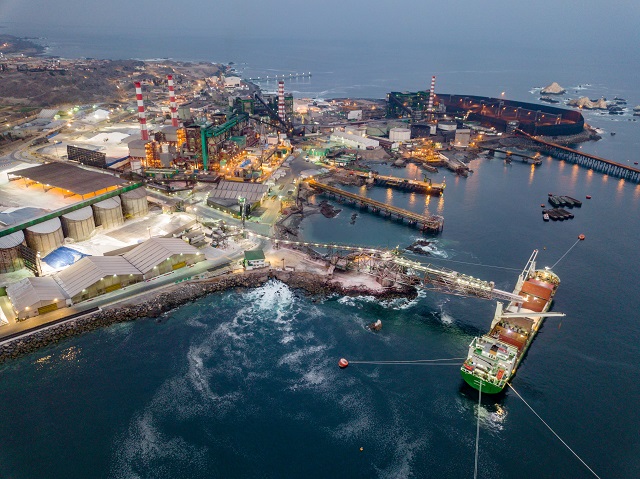 Technology at the Service of Logistics
31/Aug/2020
Ocean Insights is a platform implemented by the Finished Products Transport and Distribution area in order to track product locations in real time throughout the logistics chain.
Logistics plays an important role in our company's production chain, ensuring that products arrive on time to the over 110 countries where we do business. In view of this, and as part of our efforts to provide more transparency and information, the Finished Products Transport and Distribution area, which is part of the Domestic Logistics Department, implemented the Ocean Insights platform. This tool captures the precise location of our containers in real time.
Process digitalization and digital transformation have come to play important roles in the logistics chain, and SQM was no exception. Technological tools are used to incorporate improvements that make a greater contribution to the company's bottom line, improving risk management, cutting costs and boosting the level of service that we provide to our customers and subsidiaries.
It is important to ascertain our products' physical position, but it is even more important to provide detailed tracing for products that are highly susceptible to the risks inherent to maritime operations. These can generate extra costs and delays in delivery to the final customer. This is why the use of this platform, created by the team led by Head of Lithium-Iodine-Nitrates Finished Product Distribution Carlos Castellaro, supports monitoring of all data related to ocean shipping.
This tool uses big data and machine learning analysis to integrate information available from ports, shipping lines, satellites, etc., connecting it to container shipping data such as ETAs on boats, transit times, real holding times at transfer ports, delays arriving to the destination port, etc. Using all this available information, the company achieves traceability that allows it to better plan logistics resources, minimize costs, improve service levels and achieve more efficient local and global operations.
"We were initially a bit skeptical about Ocean Insights, and we were pleasantly surprised by the precision of this tool. That made us very excited to start using it around the world," comments International Logistics Director Erik Borghys, who adds: "Now that it has been implemented everywhere, I only receive positive feedback about the information that this system generates. It allows us to monitor the movement of containers around the world in real time, and that contributes a great deal of value."
For example, the COVID-19 crisis began in China and resulted in many types of setbacks and limitations. Thanks to Ocean Insights, we could monitor the movement of containers even when communications were blocked or very limited in that area.
Logística
Minería
Tocopilla