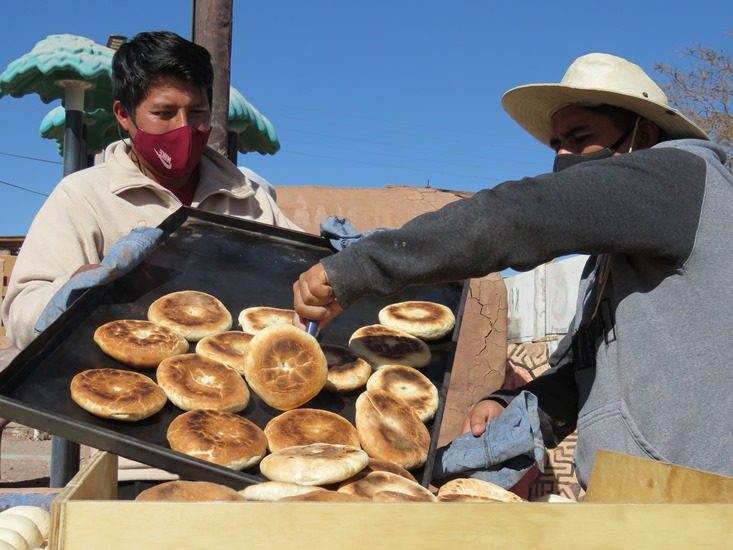 Neighbors from San Pedro de Atacama Create Community Bakery in Response to Pandemic
11/Aug/2020
The Alto Jama Neighborhood Council implemented the social initiative to support its members, who have no income since the tourism industry shut down. The project was supported by a group of SQM workers who applied for a grant from the Soup Kitchen Assistance Fund sponsored by the mining company to bolster the work of community organizations during the pandemic.
In the district of San Pedro de Atacama, close to 80% of the population works in tourism or some industry-related activity. Therefore, the COVID-19 public health crisis and suspension of local tourism have dealt them a devastating economic blow. In light of this new reality, the Alto Jama Neighborhood Council opened a Community Bakery, with council leaders building a brick oven for members to use to bake bread free of charge and benefiting the household finances of neighbors not generating any income.
The initiative was supported by a group of SQM workers from the Salar de Atacama division who applied for a grant from the company-sponsored Soup Kitchen Assistance Fund. The fund is intended to create an opportunity for all employees throughout Chile to contribute to diverse projects to strengthen work being done by community organizations in their area during the pandemic.
Together, this group of volunteers managed to donate a total of 750 kilos of flour, salt and yeast. Luz Riquelme, president of the Alto Jama Neighborhood Council, commented: "Beyond providing economic support in these difficult times, SQM's contribution also fortifies our neighborly bond. Here they can cook and bake their own bread. Our facilities are being used by 30 families and we are donating ingredients to another 10 families that already have ovens in their homes."
The families take turns, baking in shifts to practice social distancing. Each family is given supplies based on the number of people in the family. As Claudia Choque explains, "The pandemic has affected us a lot because we have no work, so we are very grateful for the support. There are 5 people in my family and we are saving 2,000 pesos every day."
Hugo Romero, a Peine resident who works at SQM Salar, presented the project together with 3 other employees at the company. "We are very happy that this project was awarded a grant. This is one small way we can contribute to the local neighborhood council, whose members are hardworking folks. It is benefiting children, women and elderly people."
Soup Kitchen Assistance Funds
In response to the public health crisis generated by COVID-19, SQM joined forces with Fundación La Semilla to launch a grant program to help a variety of organizations implementing soup kitchens throughout Chile. Fifty-six projects have been accepted, which will directly benefit 13,468 people by providing them food and cooking utensils.
"As part of the corporate volunteer program Lend a Hand to Your Community, our workers are demonstrating their connection to the areas where they live. With their help, we have allocated all of the available funds for this particular initiative," commented Pablo Pisani, Director of Communications, Sustainability and Public Affairs for SQM, adding that "through these projects we can help diverse community organizations support their members, many of whom are unemployed, over 70 years of age, have disabilities or are otherwise at risk."
Neighborhood councils, sports organizations, senior citizen groups, parenting associations and indigenous groups receiving the support will do their work in: San Pedro de Atacama, Arica, Iquique, Alto Hospicio, Pozo Almonte, María Elena, Tocopilla, Calama, Antofagasta, Taltal, La Serena, Coquimbo, Valparaíso, Santiago, Colina, Pedro Aguirre Cerda, Pudahuel, Maipú, La Pintana, Conchalí, Lampa and Pichidehua.
This community initiative is complementary to the community action plan SQM has launched to address the COVID-19 public health crisis. This plan has four action areas: Health, social wellbeing, education and healthy living, and economic recovery.