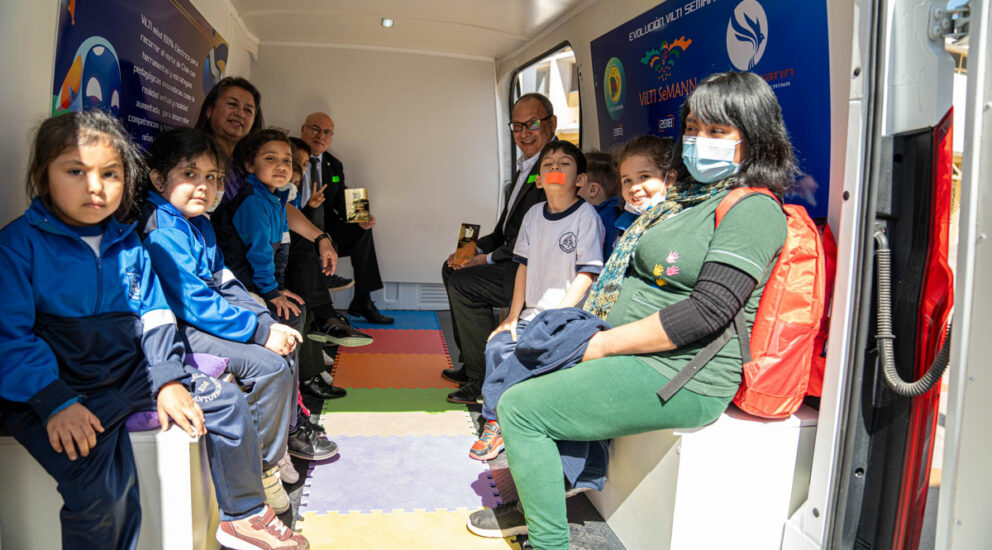 VILTI SEMANN UCN: science and educational robotics program celebrates 10th anniversary
07/Sep/2023
Impacts more than 800 children in 8 cities in the regions of Antofagasta and Tarapacá, in addition to training 200 early childhood teachers.
Carried out by Universidad Católica del Norte in Tocopilla with support from SQM.
The ceremony celebrating the 10th anniversary of the VILTI SEMANN program, held in Antofagasta, was attended by university, business and education authorities and more than 100 young students from the schools General Manuel Baquedano F-78, España D-59, ICEDUC and Huanchaca E-56. Adults and kids alike took part in interesting activities such as taking pictures with the program logo using Augmented Reality technology, scuba diving along the coasts of northern Chile and spotting native species through Virtual Reality or learning about the robots and operating systems that VILTI students work with.
The ViLTI SeMANN Program—an initiative of the UCN Vice Rector's Office for Research and Technological Development and funded by SQM—seeks to contribute to the development of human capital by strengthening early education with innovative teaching methodologies and strategies that enhance the cognitive development of children in the towns of Antofagasta, Tocopilla and María Elena in the Antofagasta Region and the towns of Huayca and La Tirana in the Tarapacá Region.
The tireless effort behind this tenth anniversary celebration included unveiling the program's new piece of equipment, the VILTI Mobile. This 100% electric vehicle is outfitted with laboratory equipment to develop skills and learning through Virtual Reality experiences with content such as the marine ecosystem and caring for northern coasts; the life cycle of flamingos; and the human body: perfect teamwork, among others.
According to UCN Chancellor Rodrigo Alda, this is a great shared value initiative. "I believe that few institutions and programs within universities can celebrate 10 years of uninterrupted work. That means that the proposals were sufficiently important to find a strategic partner like SQM, which has seen the shared value generated by this initiative. I think that the future of these children is infinite. This is thanks to the possibility that we have had to work in partnership with SQM on this initiative, which is capable of opening students' minds at a very early stage, giving them possibilities that are very different from those of the past."
Pablo Pisani, Director of Communities, Nitrates, Iodine and Public Affairs for SQM's Northern Zone, indicated that this initiative makes them very happy to celebrate VILTI's 10th anniversary, not only in Antofagasta, but also in Tarapacá. "It has been 10 years of very professional work delivering very concrete tools to 800 children who have gone through the program. In these 10 years it has been evolving towards much more agile dynamics with tools like the VILTI Mobile, fulfilling the desire to take the program on the road to reach more children. At SQM, innovation starts with the youngest children because we want to make a contribution in all areas of their lives."
Meanwhile, the director of the VILTI SEMANN Program, Olga Hernández, spoke about the unveiling of the VILTI Mobile, "a vehicle that will initially allow us to reach San Pedro de Atacama and its surroundings, and that stands out because it is 100% electric, which also helps care for the environment. We are celebrating 10 years of enhancing scientific and technological skills through experimentation, scientific inquiry, programming and educational robotics in early childhood."
In these 10 years, the VILTI SEMANN Program has had an impact on more than 800 children in 8 cities in the regions of Antofagasta and Tarapacá, in addition to training 200 teachers, participating in more than 20 fairs and seminars with 8 international presentations and 3 books published to promote skill building for the future.
Ciencias
Comunidad
Educación
robótica